Watch Will Arnett's Full Everything Is Awesome Lip Sync Battle Performance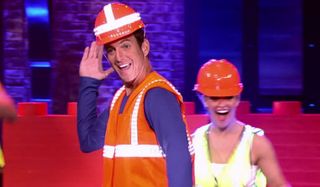 Will Arnett's time voicing Batman on The Lego Movie sure wore off, as the actor nailed his performance of the film's hit song "Everything Is Awesome". Fitted with construction worker gear, life-sized LEGO blocks and whipping out all of his best robot moves, Arnett had a blast with his Lip Sync Battle performance. That was until Alison Brie stepped out on stage, and stole the entire show. Check it out:
Will Arnett and Alison Brie stopped by Spike's Lip Sync Battle and the two co-stars went head-to-head in a live lip syncing face-off that ultimately proved that Alison Brie has the preparedness of her character Annie in Community. It began with their first song, Arnett with the choice of Baha Men's "Who Let the Dogs Out" and Alison Brie with Salt-N-Pepa's "Shoop". Brie stepped up her game early, quickly showing her Bojack Horseman co-star up. But it wasn't for Arnett's lack of trying. In the end, he was no competition to Brie, who certainly looked like she practiced, a lot. Arnett did come out with the killer The Lego Movie costume and props though.
Ironically, Will Arnett chose a song that both him and Alison Brie have a connection to. While Arnett rocked a basic building construction worker from the film, instead of his smart-talking Batman, Brie had to sit sidelines to this performance, though the young actress also played a role in the Phil Lord and Chris Miller hit. You may remember her as the lovable little unicorn/kitten hybrid with a short fuse, Unikitty. Arnett's hilarious performance of "Everything is Awesome" by Tegan and Sara even featured The Lonely Island rap portion of the song which was quite impressive. But, despite his attempts at a quick-spitting rap performance, it didn't come close to Brie's follow up with "Bang Bang" by Jessie J, Ariana Grande and Nicki Minaj. Sorry Batman.
Brie went big, and boy did she pull it off. From everything to rapping, belting, and costume changing, the actress created the illusion that she was indeed singing. Something you somewhat got from Arnett's Lonely Island rap, but unfortunately not from many other parts of his song. Then again, Brie did reiterate how much she practiced at the end of her performance. And we can't all be an Annie.
Your Daily Blend of Entertainment News