Watch Dos Equis Say Goodbye To The Most Interesting Man In The World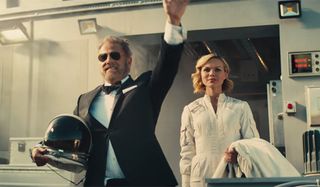 For the last decade, Dos Equis has released commercial after commercial following the exploits of The Most Interesting Man In The World. Memes have been spawned. Halloween costumes have been created. Movie characters have been stylized after him. In short, The Most Interesting Man In The World has become an intriguing part of pop culture in the United States. But today he is being retired, and he's doing so in style, thanks to a brand new ad released by the beer company. You can watch his big goodbye ad, below.
So many ad campaigns go quietly into the good night—or are forced off the air by other companies, as happened with Rob Lowe's epic DirecTV ads. However, of course The Most Interesting Man In The World would go out on a high note, and Dos Equis has him journey on a spaceship to Mars. It's a one-way trip marking the end of an era. We're just happy he gets to utter his famous catchphrase--"Stay thirsty, my friends"—as he is blasting off. Here's the character waving just before he heads off into the cosmos:
The ad also runs with this tagline: "If mankind is going to make contact with intelligent life, sending him is the least we can do." That's the attitude that has taken these commercials a notch above most ads.
Dos Equis' ads have been so successful that they have shaped the brand in the public consciousness in this country and brought it from a mid-level beer brand into the sixth largest beer importer. The "Stay Thirsty" tagline is well-known to the public, as is the quote about the beer itself, "I don't always drink beer, but when I do, I choose Dos Equis." The beer company told Adweek that the "Stay Thirsty" tagline will stag intact, even if The Most Interesting Man In The World is now retiring.
If you don't catch the ad in this article, you can expect to actually see it air on TV only once, unlike other Dos Equis ads. The Most Interesting Man In The World will "embark on his greatest adventure"during the Lakers vs. Cavaliers matchup on TNT.
Afterwards, Dos Equis is going to have to figure out another ad campaign to keep them in the public consciousness. I wish the company the very best, as it will be nigh impossible to create something as memorable and personable as The Most Interesting Man In The World.
Your Daily Blend of Entertainment News
Reality TV fan with a pinch of Disney fairy dust thrown in. Theme park junkie. If you've created a rom-com I've probably watched it.