Watch A Shirtless Dude Run In The Rain, Ask The Women Of Chicago On A Date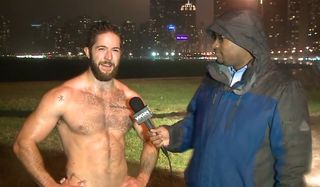 Some places just aren't known for having good weather, and folks in the Windy City must be tired of watching the same dreary weather reports from the same newscasters looking miserable while being pelted with precipitation. Luckily for WGN, one miserable-looking newscaster came across a passerby perfect for spicing up the weather report. Ethan Renoe was discovered running through a park in the rain without a shirt, and he had a message for the ladies of Chicago. Check it out!
Ethan Renoe couldn't have possibly predicted that his shirtless run through the rain would have landed him a spot on the evening news, but he deserves credit for trying to make the most of his five minutes of fame in his appeal to the ladies of Chicago. Was there some dubious logic in his claim that it was too wet to wear a shirt? Sure. But grinning and stretching to maximize ab exposure made him fun to look at until the clip ended and it was time to remember that he was probably going to regret that watery run later on. It is December, after all.
The risks of running shirtless along Lake Michigan in mid-December are usually more along the lines of frostbite and hypothermia. The comparatively warm rain was probably quite balmy compared to what he might normally have faced on his evening run. When it comes to shirtless outdoor athletics, "At least it isn't snowing!" is a pretty good motto.
Of course, Ethan Renoe hailing from Colorado means that he's likely no stranger to snow. He may have needed to run shirtless during his visit to Chicago to feel a familiar chill. Then again, maybe fate was calling to him and he just had to find a way to reach out to womankind while showing off some of his network-friendly assets. It's easy to poke fun now, but what if he meets the love of his life thanks to this workout? It would certainly be a story to tell the grandkids.
Poking fun aside, Renoe seems to have been caught on camera in the middle of a slow news cycle as WGN newscasters brought him back in the light of day – fully dressed this time – for some background on the video that has gone viral.
The banter between Renoe and the two male interviewers may have quickly turned to praising his physique and dropping innuendoes about his chances with the ladies, but Renoe is fairly endearing. His wet and shirtless pitch may have been to the ladies of Chicago, but the popularity of the clip makes it clear enough that his chances of scoring a date are pretty good wherever he goes. Who knows? Maybe Renoe will score something aside from a cold from his December jog.
Resident of One Chicago, Bachelor Nation, and Cleveland. Has opinions about crossovers, Star Wars, and superheroes. Will not time travel.
Your Daily Blend of Entertainment News
Thank you for signing up to CinemaBlend. You will receive a verification email shortly.
There was a problem. Please refresh the page and try again.