Watch Stephen Colbert Talk Politics And His Odds Of Becoming Pope On This Week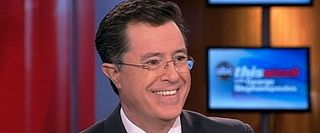 Stephen Colbert for Pope? This morning on This Week Stephen Colbert added to his announcement that he has launched an "exploratory committee" to investigate the possibility of running for President of the United States of South Carolina the possibility that he might also launch such a committee to investigate becoming Pope. Colbert stated that as a Catholic and Sunday School teacher, he feels there is a very real possibility he could reach the Vatican.
Colbert's hilarious appearance on the program included the suggestion that Mitt Romney might be a serial killer, the declaration that Jon Stewart is a "loose cannon", and a staunch refusal to discuss who might be running as his VP in his hypothetical candidacy. George Stephanopolous did a fabulous job keeping a straight face as Colbert stayed in character the whole time.
No one does deadpan quite like Colbert, and the fact that there is no laughing audience actually makes this appearance even funnier. Check out the clip Deadline posted...
Watch Colbert discuss the subject of running for president on The Colbert Report here.
Your Daily Blend of Entertainment News
Thank you for signing up to CinemaBlend. You will receive a verification email shortly.
There was a problem. Please refresh the page and try again.