Welcome To Sweden Review: A Pleasant Trip, But One We've Taken Many Times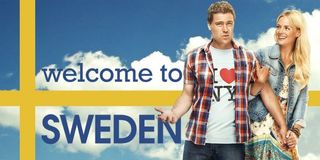 With shows like Orphan Black and Rookie Blue getting renewed left and right, there's no shortage of international (co-)productions on American TV, but imported series that manage to avoid the 'remakeover' also tend to be dramas. Comedies from other English-speaking countries almost always get adapted for American audiences, and a foreign sitcom has a slim chance of getting to air unchanged - especially one with subtitles - which makes Welcome to Sweden rather rare. Too bad the same can't be said for anything else to do with this NBC summer series, which serves as a pleasant but familiar and forgettable fish out of water tale.
From executive producers Greg Poehler and Amy Poehler (as well as Pontus Edgren, Frederik Arefalk and Felix Herngern), Welcome to Sweden is based on the male Poehler's real-life experience of moving to the Scandinavian nation in the name of love. Poehler also stars in the comedy as Bruce, a fictionalized version of himself who leaves his New York City life as a celebrity accountant to be with with his girlfriend Emma (Josephine Bornebusch) as she moves back to Stockholm to start a new job. The first obstacle? Emma's overbearing parents, Viveka (Lena Olin) and Birger (Claes Månsson), with whom the younger couple are forced to live during the transition.
If that synopsis sounds like Meet the Foreign Parents, it's because Welcome to Sweden's first two episodes ("Day One" and "Learn the Language") have a lot in common with the Ben Stiller franchise, right down to the stoner younger brother. The writers (Poehler, Bornebusch and Niclas Carlsson) did flip the script when it came to the parents, with the mother being the ball-breaker who immediately dislikes their daughter's choice in a mate, instead of the father. She's overbearing. He's soft spoken and accommodating. Like I said, it's a very familiar story.
Even the 'lost in translation' laughs are not original, with the culture clash jokes retreading well-worn territory, like Bruce pretending to be Canadian to avoid a confrontation. Oh, and I used the word "laughs," but they were few and far between. Smiles, perhaps. The single-camera comedy was pleasant enough and the actors are all likable in their respective roles, but I just wish they were given more to do than these tired narratives. Do we really need another plot following a couple trying to have sex while visiting one of their parents? I've seen enough childhood beds break on-screen.
To its credit, Welcome to Sweden doesn't look like any of the other comedies airing on NBC, since the sitcom was mostly shot on location in Stockholm (and contains a substantial amount of subtitles). It's a lovely, natural aesthetic and certainly stands out in a schedule filled with shows shot on a backlot. The cinematography probably adds to that pleasant feeling I was describing earlier. If only the on-screen action was a little more compelling or had a lot more laughs, then maybe I could recommend tuning in to the premiere. But with an endless number of current TV series to watch, pleasant just isn't enough.
I should say that Welcome to Sweden did get renewed for a second season by TV4 in Sweden, so perhaps the sitcom does pick up after the first two installments. I'm not sure how; I saw two of the three big cameos and the comedy somehow managed to make Amy Poehler and Will Ferrell only mildly amusing. Not a good sign.
Welcome to Sweden premieres Thursday, July 10 at 9:00 p.m. ET on NBC. Created by Greg Poehler, the series stars Poehler, Josephine Bornebusch, Lena Olin, Claes Månsson and Christopher Wagelin.
Your Daily Blend of Entertainment News