White Collar's Tim DeKay Will Face The Devil On Body Of Proof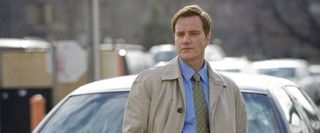 Heads are going to turn on the new season of Body of Proof--make that heads are going to spin. White Collar star Tim DeKay has signed on for an Exorcist-esque episode of the series, that will feature his daughter as the victim of an apparent demonic possession that leads to some scenes quite reminiscent of the classic movie.
DeKay, according to TVLine, will play the father of the possessed girl. He's a very religious, serious man who is forced to face more than just his inner demons when his teenage daughter dies in a hail of projectile vomit and evil-sounding voices yelling out offensive things right there in the ER. I don't know if there is any actual head-spinning--that might be just a little too similar to The Exorcist--but then again, how often do TV audiences get to enjoy a good demonic possession head-spinning scene? The battle with the devil will take place in Season 3 of Body of Proof, although no exact premiere date has been released, yet.
DeKay has just wrapped the fourth season of White Collar, so he has a little time on his hands to pop over to the Body of Proof set. Too bad that episode won't be airing until sometime next year, because it sounds more like a Halloween special to me. DeKay also recently guest starred on an episode of Hot in Cleveland.
Body of Proof is expected to premiere in the early part of 2013.
Your Daily Blend of Entertainment News