Writers Strike Officially Over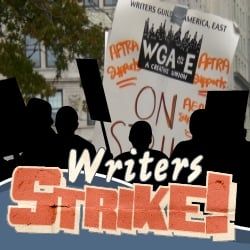 The day that we've all been waiting for is finally here. Tonight, the Writers Guild of America voted to end the three-month long writers strike that has plunged us deep into a pit of reality shows, repeats and Jay Leno babbling even more incoherently than normal.
The combined WGAW and WGAE votes were overwhelmingly in favor of returning to work, with 3,492 votes in favor of ending the strike and only 283 trying to hold out for a better deal. All told, the strike has cost the county of Los Angeles $3.2 billion in direct and indirect lost revenue, but it will be business as usual starting Wednesday, when most of the writers return to work.
Patrick Verrone, president of WGAW, considers the strike to be a success, saying, "these advances now give us a foothold in the digital age. Rather than being shut out of the future of content creation and delivery, writers will lead the way as television migrates to the Internet." Even Les Moonves, CEO of CBS is able to put a positive spin on the strike: "At the end of the day, everybody won. It was a fair deal and one that the companies can live with, and it recognizes the large contribution that writers have made to the industry."
So it seems as though the strike has ended, and while neither side got everything they wanted, it seems to be a situation with which they can both live. What really matters now is that the cast and crew of all of our favorite shows get to go back to work and save what's left of this TV season.
Your Daily Blend of Entertainment News
Your Daily Blend of Entertainment News
Thank you for signing up to CinemaBlend. You will receive a verification email shortly.
There was a problem. Please refresh the page and try again.