Zachary Quinto Says He's Recently Dead On American Horror Story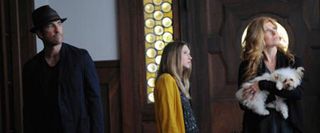 As a hardcore horror fan, it feels quite natural that I'm absolutely addicted to the latest from Ryan Murphy and Brad Falchuk, FX's American Horror Story. The show stars Connie Britton, Dylan McDermott and Taissa Farmiga as a family that relocates and is persuaded by a good deal on a house with a dark past. If you've seen the first two episodes of the series, you know this piece really has no bounds, dipping in and out of all sorts of classic scares we've come to love on the big screen. Also, this endless potential keeps the doors wide open for guest stars one of which will be Zachary Quinto.
After chatting a bit about his latest film, Margin Call, Quinto took the time to talk American Horror Story and what we can expect from him on the show. He's already shot two episodes, set to air next week as a two-part Halloween episode, and is set to shoot a third this week. As for his character, Quinto notes, "He certainly likes his wine." Is he an alcoholic going to McDermott's character for guidance? Nope, he's dead, or, as Quinto explained, "He's recently dead," which leaves him still feeling entitled to the house and jealous of its new occupants.
Hear the details for yourself below and watch out for the full interview with Quinto on Margin Call in the coming days.
Staff Writer for CinemaBlend.
Your Daily Blend of Entertainment News
Thank you for signing up to CinemaBlend. You will receive a verification email shortly.
There was a problem. Please refresh the page and try again.