Why Toy Story Land's Roundup Rodeo BBQ Has Become A Must-Visit Destination At Disney's Hollywood Studios
Yee-howdy, this new experience is a tasty treat.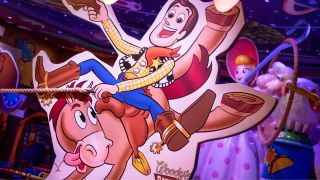 (Image credit: Disney Parks)
Theme parks are mostly known for their attractions, especially when a park like Walt Disney World always has new and exciting things to look forward to when visiting. These thrilling experiences that take us to another world, and excite us beyond belief, are the cornerstones of what Disney Parks have always offered the guests that choose to visit. But there is another part of the experience that helps bring joy to visitors even when they're not riding into resistance, rebellion or revelry: the food. It's because of this that the new Roundup Rodeo BBQ restaurant in Disney's Hollywood Studios has become a must visit destination for anyone with taste buds and an inner child.
During my recent trip for the All The Disney Thrills press event, which also wowed me with the Tron Lightcycle Run, I was welcomed into the culinary world of this Disney/Pixar landmark. After sampling the goods and atmosphere, I can safely say that you should definitely make reservations to feed your face in this colorful and charming toy-centric restaurant. But if you need some more specific pitching as to why you should make Roundup Rodeo BBQ a vital stop on your next trip to Disney's Hollywood Studios, let me tell you why it's definitely worth the time.
You're An Honorary Toy At the Roundup Rodeo BBQ
Theming is as natural to a Disney Parks experience as it is to grab a turkey leg or a box of popcorn when that hunger arises. Roundup Rodeo BBQ is yet another beautifully themed experience that allows guests to take a load off and chow down with some family style barbeque, while also playing a special role in the Toy Story universe.
You see, when you're here, you're an honorary toy. Dining in an experience based off of Andy's backyard rodeo in Toy Story 2 (which is arguably the best Toy Story movie of the lot), you are playing the part of a child's plaything while dining in a mixture of toy themed iconography. Just as you'd find in restaurants like Epcot's Space 220, the world of Roundup Rodeo BBQ welcomes you inside to feed your stomach, as well as your imagination.
The Evil Dr. Smoked Ribs And Buttercup's Beef Brisket Are Top Notch
Barbeque isn't only the specialty of this Toy Story themed restaurant; it's present right in the name. So if Roundup Rodeo BBQ's food options failed to live up to that part of the name, it would have been a massive problem. It isn't a concern you should worry about though, as the food is a stunning mixture of options, anchored, of course, by the traditional ribs and brisket you'd find at any good barbeque joint.
Having tasted the menu myself, I'd definitely recommend the Evil Dr. Smoked Ribs, as well as Buttercup's Beef Brisket. Both are deliciously smokey and pair well with the variety of barbeque sauces that cater to the sweet and the spicey, as well as the smokey. Also, don't forget to select your sides carefully, as you'll want something that's not only tasty, but will also cleanse your palate between flavors. Personally, I recommend Wheezy's Watermelon Salad or the Mean Old Potato Salad to get the job done.
The Plant Based Options Are Equally Delicious
Roundup Rodeo BBQ: What To Know Before You Go
Before you saddle up for this new Disney Parks dining experience, here's what you need to know about hitching up for the Roundup Rodeo BBQ
- Pricing breaks down to $45 per adult and $25 per child (Ages 3-9), plus tax and gratuity.
- Dining is family style, with your meal including The Prospector's Homemade Cheddar Biscuits with Sweet Pepper Jelly, three greens, one platter (meat or plant-based), four sides, and a dessert for each diner present.
- Reservations are required to dine at Roundup Rodeo BBQ, so be sure to check for availability before planning to head over there. Also, be sure to have a valid park reservation for Disney's Hollywood Studios on the day you plan to dine.
- Do not underestimate the freshly brewed peach iced tea.
While barbeque is known to be mostly a meat based experience, the modern world has opened up all sorts of delicious alternatives to those who don't partake. Roundup Rodeo BBQ would have been foolish not to introduce some plant-based options for the guests who abide by such dietary guidelines, and the good news is that the spread of meatless options are just as bountiful.
The even better news is that Roundup Rodeo BBQ's plant based options are just as tasty! Having also sampled the Trixie's Plant-Based Trio platter at the restaurant, I can safely say that herbivores are more than welcome to this hoedown. With the Combat Carloflower, Scrumptious Bratwurst and Rip Roarin' Rib Chop making up that side of the menu, the taste is so convincing that even meat eaters owe it to themselves to take a bite.
The star of the show has to be the Rip Roarin' Rib Chop, which is made from Impossible meat. A well-sauced piece of faux meat, it tastes almost exactly like the real thing, and is the most savory delight of the bunch. No matter your dining preference, you should definitely keep an open mind and sample this platter on one of your visits to the Roundup Rodeo BBQ.
Save Room For Some Killer Desserts And Cocktails
The collective barbeque experience is something that isn't just limited to the main course. Your sides, drinks and desserts are just as important, as it all adds up to one brilliant whole that makes you feel at home. This family style menu allows one dessert for each party member, and it's another delicious menu's worth of options to select from.
Out of the three desserts I sampled, the plant-based Gruff's Peach Strawberry Pie is the one I'd recommend the most. That said, Bo's Lemon and Blueberry Cheesecake and the Cupcake à la Forky were still delicious delights. My recommendation is just a biased choice based on what I tasted, but if the desserts are like the rest of the menu, you might be hard pressed to find a loser. Remember, everyone gets their own dessert at the Roundup Rodeo BBQ, so strategic selection and sharing could give you the full picture.
Of course, there are some special drink options on deck at the Roundup Rodeo BBQ. With Walt Disney World getting more into alcoholic drink vending, there's a selection of cocktails that weren't available for sampling, but sounded delicious nonetheless. If I was to highlight the one option I'm most keen on trying, I'd have to say it's Grown Up's Iced Chocolate and Rum, which sounded like a cross between a S'more and the featured alcohol. One or two of those might make for a perfect time killer when waiting out the line for the Slinky Dog Dash.
Roundup Rodeo BBQ Is A Perfect Toy Story Land Waiting Area
That leads me to the final advantage of the Roundup Rodeo BBQ: it's right next to the Slinky Dog Dash and across the way from the entrance to Toy Story Mania. Since both of those rides are pretty popular at Disney's Hollywood Studios, taking a load off in the Roundup Rodeo BBQ is a fantastic way to strategically plan your riding experience. While good old Slink may not be pulling the massive opening day queues he once drew, you'll probably still be waiting upwards of an hour, so scoping the wait times somewhere comfortable is a valid strategy.
Whether you've got some Lightning Lanes to burn or if you're just trying to keep a watchful eye on the standby queue's wait time, Roundup Rodeo BBQ is a great option for filling food in the meantime. It's also just a perfect indoor based addition to the Toy Story themed section of the park, allowing adults and children like to step into the world of Woody, Buzz and the gang a little deeper.
There's a lot going on in the Roundup Rodeo BBQ, and the best part is it's already open. But again, be sure to check for availability when attempting to dig in, as the long-awaited Disney's Hollywood Studios restaurant is bound to be quite popular, and the reservation system has already proven to be a bit tricky. Happy trails, friends, as you attempt to take your tastebuds to infinity and beyond!
Your Daily Blend of Entertainment News
Senior Movies Contributor
CinemaBlend's James Bond (expert). Also versed in Large Scale Aggressors, time travel, and Guillermo del Toro. He fights for The User.