Tron Lightcycle Run Might Be Walt Disney World's Most Intense Ride Experience Ever
Digitizing never felt so fun.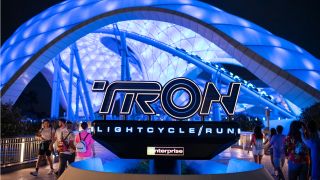 (Image credit: Walt Disney World)
The Grid. A digital frontier. Fans of the Tron franchise of movies have always wanted to become a part of Kevin Flynn's legendary sci-fi kingdom. On April 4th, they'll get in, as Tron Lightcycle Run is finally opening at the Magic Kingdom's Tomorrowland, after years of waiting. But is The Grid worth the wait, and what should Users expect when riding into the realm of one of the best sci-fi movies of all time? That's what we're about to discuss, as I've had the chance to experience the attraction myself, and there's some things you should know.
The Storyline Of Tron Lightcycle Run
Building up the experience of Disney Parks' Tron Lightcycle Run is the story of how Sam Flynn, Tron: Legacy's protagonist, is following in his old man Kevin's footsteps. He's opening portals between The Grid and our world, with Orlando being his latest hotspot. Thanks to his work, you'll be digitized into the world of the Tron movies, and allowed to take part in a lightcycle race, just like in the movies!
While you'll see five different teams on display in the queue experience for Tron Lightcycle Run, the ride boils down to the usual conflict: Team Blue versus Team Orange. Once you're digitized and make your way through the queue, things move pretty fast. Literally: Tron's roller coaster incarnation takes off from the start, and it doesn't let up until you're back in the station.
Front Row Is The Way To Go
I wasn't kidding when I said things moved pretty fast. Tron Lightcycle Run is a launch coaster, and it catapults you out into the Upload Conduit (the really beautiful canopy you've seen in some footage and images) before you know it. If you want the most intense experience out of this attraction, good old coaster logic still applies, and you're going to want to sit in the front row.
Picture it: the wind in your hair, an unobstructed view of what's to come, and a really cool story to tell the folks at home. This Tron: Legacy attraction is all about speed and thrills, and the front row amps all of that up by a considerable amount. Rest assured, no matter where you sit, it's still one hell of a ride; but if you're looking to turn the thrills up a bit, this is where you need to be.
The Wheelchair Accessible Car Offers A Different, But Exciting Experience
There has been talk about the restrictive ride vehicle to Tron Lightcycle Run, as there's some riders that are unfortunately unable to partake in the Lightcycle format. Accessibility issues dictated that a separate, more traditional car be added at the back of the trains, so that this exhilarating attraction is available to all who want to ride it. I took that experience myself, and I can gladly say, there's some perks to riding in a more conventional roller coaster car.
Tron's world is as beautiful as it is thrilling, which leads to the one drawback to the light bike experience: you don't get to really appreciate the view. Meanwhile, the car unofficially deemed in conversation as "The Chariot" lets you really appreciate the detail put into the ride. Now that's not saying you can't do the same while riding a Lightcycle, but rather that it's much easier to take more of your surroundings in when you're sitting upright.
Are The Seats Uncomfortable?
You knew this was coming, folks: it's time to talk about those Lightcycles. Ever since people started riding Tron Lightcycle Run, there's been discussions on the discomfort and inconvenience of the seating method that makes up most of Tron's theme park experience. Since you're basically kneeling the whole time, I could see where the problems could come into play. But honestly I didn't have a problem riding in this fashion.
That being said, if you're in a scenario where the line's so short you can go on multiple times, you will definitely start to feel it. The intensity of the entire experience, plus this unique seating style, adds up because of gravity doing its thing. So a single ride shouldn't be too bad, but if you're looking to enjoy several cycles on Tron Lightcycle Run, you may want to think about some pants.
Is It A Waste To Ride Tron Lightcycle Run In The Daytime?
One final concern needs to be addressed, as folks who are looking forward to Tron Lightcycle Run might be worried about any potential rides in broad daylight. The Upload Conduit canopy is absolutely dazzling at night, with shifting lighting patterns and gorgeous effects really shining through when the sun goes down. That being said, day time ride experiences are still an absolute treat.
While the Upload Conduit is impressive, and I highly recommend riding Tron Lightcycle Run at night if possible, it's not required. Between the enclosed ride buildings that make up the beginning and conclusion of the attraction, there's plenty of those dark neon enhanced visuals that Tron: Legacy has inspired us all to look forward to. Also, once demand for the attraction stabilizes into typical Disney fashion, daytime just might be the advantageous window to get on without much of a wait. But time will tell on that assumption.
Know Before You Go On Tron Lightcycle Run
Here's some more stuff you should keep in mind when partaking in the Tron Lightcycle Run experience:
Similar to the opening of Guardians of the Galaxy: Cosmic Rewind, Individual Lightning Lane and Virtual Queue will be the main options for anyone trying to ride this new attraction.
Lockers are available and required for anyone carrying backpacks or other larger loose articles, and are available for free. Phones and glasses can be kept in a small compartment built into the ride vehicle itself.
You must be 48 inches or taller to ride.
Composer Joseph Trapanese, an orchestrator on Tron: Legacy and the composer for Tron: Uprising's musical score, has created new music for this attraction, and it's an amazing loop of sound you might never get sick of.
Keep a close eye on Team Orange's roster when you're waiting in the main station. You might see a familiar face, and start asking some big questions.
That's basically all that you need to know about Tron Lightcycle Run before planning your first ride on this amazing new attraction. A fast and intense experience, it's the closest you're going to get to getting on The Grid, and it's the fulfillment of any Tron fan's dreams. It might not be a surprise greenlight for Tron: Ascension's production, despite several good reasons why that should happen, but this ride does keep hope alive for Sam Flynn's potential return in its own special way. You'll be able to see for yourself real soon, as Tron Lightcycle Run opens on April 4th, in the Magic Kingdom of Walt Disney World.
Your Daily Blend of Entertainment News
Senior Movies Contributor
CinemaBlend's James Bond (expert). Also versed in Large Scale Aggressors, time travel, and Guillermo del Toro. He fights for The User.