12 Days Of Christmas: The Adventures Of Young Indiana Jones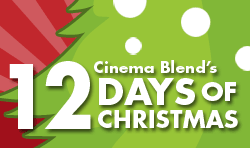 It's time to celebrate the Christmas/ Chanukah/ Kwanza/ Festivus Holiday season, so here at Cinema Blend we're enjoying Twelve Days of Christmas. Yes, we know traditionally the "12 days" start with Christmas, but we plan on being celebrated out by that time, so we're pushing the twelve days leading up to the holiday.
Here at DVD Blend, we're celebrating by suggesting some of the more impressive DVD sets to come out this year. Think of the list as a buying guide for the movie fanatic in your life, just in case you haven't thought of something for them already.
On the fourth day of Christmas, my true love gave to me…
The Adventures of Young Indiana Jones
I was a huge fan of The Adventures of Young Indiana Jones when it first aired, and getting the chance to enjoy it on DVD has been a nice opportunity to see that not everything from my youth was best left there. Young Indy still plays well, although I still enjoy the adventures of teenage Indy, who can take more of an active role, than the youngest incarnation of the character.
The first volume of young Indiana Jones focused more on the 9-year-old version of the tale thanks to LucasFilm's decision to reorder the series chronologically. Thankfully the second volume will also be out prior to the holidays, so those who want to jump straight to the teenage years of the action icon might be more interested in picking that up instead.
The perfect gift for… fans of historical fiction more than simple fans of Indiana Jones, mainly because this is less about action and more about Indy's encounters with historical figures.
Read all of Cinema Blend's 12 Days of Christmas features in other sections by clicking here.
Your Daily Blend of Entertainment News