The Cast Of Back To The Future Parties Like It's 1985 At The Blu-Ray/DVD Release Party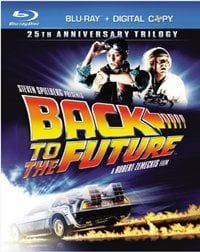 The media blitz for the 25th Anniversary Blu-ray and DVD release of the Back to the Future Trilogy has been pretty impressive so far, but that's only appropriate for one of the most beloved film trilogies of all time. (Not to mention one that, so far, hasn't been maimed by any misguided "special editions" yet.) The one thing that's been missing so far is a big honkin' party. Thankfully, the cast and crew of BTTF solved that problem in style this past Monday with a huge celebration at Guastavino's in New York.
Let's be honest: watching famous people live it up at the sort of lavish party most of us will never attend holds limited appeal. And it's not like those in attendance -- including Michael J. Fox, Christopher Lloyd, Lea Thompson, Mary Steenburgen, Huey Lewis, Robert Zemeckis, Bob Gale and Neil Canton -- dish out any previously unknown trivia tidbits on the red carpet. But they're all just so likeable, I can't help but hope they all had a blast. But seriously, people, where's the love for Tom Wilson and Crispin Glover? Okay, actually, I can understand maybe losing Crispin's invitation.
Check out the clip below for what looks to have been a good old fashioned hootenanny, complete with a DeLorean on display and what appears to be a smoking, flaming DeLorean cake. All I know is, if they weren't serving Tab at this party, the caterers should be fired.
Your Daily Blend of Entertainment News
Thank you for signing up to CinemaBlend. You will receive a verification email shortly.
There was a problem. Please refresh the page and try again.