Disney Opens The Vault And Brings Dumbo To Blu-Ray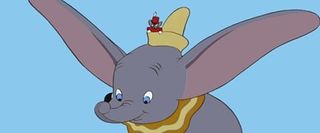 Once again the gatekeepers at the House of Mouse have thrown open the ponderous doors of the Disney vault and brought forth a new treasure. And this time, it's a movie about a flying elephant. Yes, Dumbo is fast approaching its 70th anniversary, and so Disney has sent out word that the airborne pachyderm is headed for high-definition. And somewhere, my wife just began doing a silly little dance of joy.
The Dumbo (70th Anniversary Edition) release will be getting the usual Disney spit-polish, completely restored and upgraded for high-def picture and 7.1 audio. Nor will Disney be scrimping on the bonus features, as you can see in the rundown below. It will include a, ahem, trunk-full of extras, a nice mix of featurettes for the grown-ups and silly games for the kiddos. You'll be able to add Dumbo to your collection on the usual trifecta of Blu-ray/DVD combo pack ($39.99), single-disc DVD ($29.99), or via download on September 20th. Mark your calendars, or if you happen to have an elephant handy, tell them. Those guys never forget.
DVD
Deleted Scene -- "The Mouse's Tale"
Deleted Song -- "Are You a Man or a Mouse?"
Taking Flight: The Making of Dumbo -- A journey back to the origins of the film as everybody's favorite baby elephant takes wing.
The Magic of Dumbo: A Ride of Passage -- Witness the excitement and magic of Disneyland's most popular ride through the eyes of a child.
Audio Commentary with Pete Docter, Paula Sigman and Andreas Deja
Sound Design Excerpt from The Reluctant Dragon
Original Walt Disney Television Introduction
Blu-ray
Everything on the DVD, plus:
Cine-Explore
Disney View
"What Do You See?" Game
"What Do You Know?" Game
"Celebrating Dumbo" Featurette
Animated Short: "The Flying Mouse"
Animated Short: "Elmer Elephant"
Movie Download (Standard Definition &High-Def Versions)
Deleted Scene -- "The Mouse's Tale"
Deleted Song -- "Are You a Man or a Mouse?"
"Celebrating Dumbo" Featurette
Your Daily Blend of Entertainment News
Thank you for signing up to CinemaBlend. You will receive a verification email shortly.
There was a problem. Please refresh the page and try again.