Download A New Salma Hayek Movie For Free!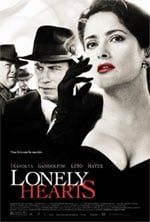 Sure there's plenty of free stuff on the internet, but how often do you get to download something that's both free and legal? Almost never. But in a cool move AOL is offering to let you download a full Salma Hayek movie for free.
The film is her most recent effort, a movie called Lonely Hearts which was given a rather quiet limited release earlier this month. It's got an all star cast, with Hayek, John Travolta, James Gandolfini, Jared Leto, and Laura Dern so it's not like they're giving you some cast off Pauly Shore direct-to-dvd Encino Man sequel. Lonely Hearts is pretty major, the story of serial killers on the lam and the detective who captures, incarcerates, and sees to their execution.
The only real catch here is that to download it, you have to visit AOL using Internet Explorer and you have to install their annoying Hi-Q Delivery Manager. A small price to pay to download an entire movie for free, without fear of prosecution. To start downloading, just click here.
Your Daily Blend of Entertainment News
Thank you for signing up to CinemaBlend. You will receive a verification email shortly.
There was a problem. Please refresh the page and try again.