Every Spring The Toilets Explode: Animal House Is Back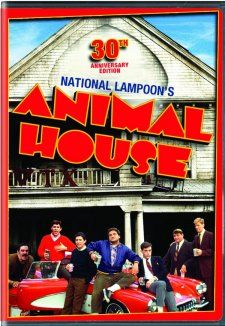 "It's not gonna be an orgy….it's a toga party."
In 1978, John Landis directed what is likely the father of all "raunch comedies," Animal House. The movie was co-written by Harold Ramis and featured early work by John Belushi, Tim Matheson, Peter Riegert, Karen Allen, Kevin Bacon, and Thomas Hulce. In honor of its 30th Anniversary, Animal House is getting a commemorative DVD release on October 28th.
In the unlikely event you haven't heard of the movie until this very moment, Animal House tells the story of the Faber College's most destructive and debauched fraternity, Delta House. The Deltas are hounded by the humorless Dean Wormer and the straight arrow frat boys from Omega House. Almost every staple of raunch comedy you've ever seen pretty much originated in this movie. If someone ever put you on double secret probation, thank this movie. It also gave rise to well-known lines like "was it over when the German's bombed Pearl Harbor," "thank you Sir, may I have another?" and "toga, toga, toga."
The 30th Anniversary edition will come in two forms. The first is a 2-disc set with a featurette called "Yearbook: An Animal House Reunion." The extra includes interviews with director John Landis, producers Ivan Reitman and Matty Simmons, composer Elmer Bernstein, writers Chris Miller and Harold Ramis, cast members Tim Matheson, Karen Allen, Stephen Furst, Peter Riegert, Kevin Bacon, and John Vernon, plus behind-the-scenes footage and clips with John Belushi. There is also "Where are they Now" featurette held over from a previous DVD release. Finally, you get two new "Scene-It" mini-games to test your knowledge of Animal House trivia.
There is also a DVD Gift Set that includes all of the above bonus features plus "National Lampoon's Animal House: The Inside Story." This is a new 98 minute documentary that also includes interviews with many of the participants and a trip to the University of Oregon where the film was shot. The Gift Set also includes a commemorative yearbook and comes packaged in a commemorative Delta House box.
The cover art for both the regular and Gift Set editions are shown below.
Your Daily Blend of Entertainment News