Exclusive: James Franco Has Four Options In This 127 Hours Deleted Scene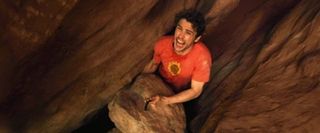 127 Hours may not have taken home any trophies at last night's Academy Awards (and James Franco may not have won many fans as co-host), but anyone who missed the flick in theaters will finally get to see what all the hubbub was about when it hits Blu-ray and DVD tomorrow. To give you a little sneak peak, we've got an exclusive clip from the disc's deleted scenes below.
127 Hours is of course based on the story of Aron Ralston, the real-life rock climber who was forced to saw off his own freaking arm with a dull knife after becoming pinned beneath a rock back in 2003. Franco received a ton of praise for his performance, so it's definitely worth seeing assuming you've got the stomach for it.
The DVD and Blu-ray versions will include several special features, including commentary with director Danny Boyle, producer Christian Colson, and screenwriter Simon Beaufoy. And since Amazon currently has both the Blu-ray and DVDs discounted 50%, it won't cost you an arm and a leg.
Sorry about that.
Here's our exclusive clip from the deleted scenes, where a beleaguered and exhausted Aron has narrowed his future down to only a few simple options, none of them good.
Your Daily Blend of Entertainment News