The Fans Have Their Way With Stargate Atlantis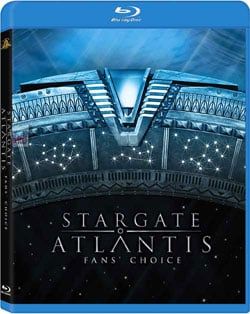 No television show can be successful without a loyal fan base. On August 4th, MGM Home Entertainment will release the ultimate thank you for fans of Stargate Atlantis in the form of a Blu-ray disc. Early this year fans had the opportunity to vote for their favorite SGA episodes. Not only does this BD feature the two episodes that received the most votes, but it also shows off a fan-designed cover.
The first episode on this disc is "Rising," the series' pilot episode. It was originally broadcast in two parts in July of 2004. Colonel Marshall Sumner (Robert Patrick) and Dr. Elizabeth Weir (Torri Higginson) are part of a team traveling to the Pegasus Galaxy in search of the lost city of Atlantis and the advanced race of the Ancients. They successfully make it to Atlantis but power troubles and a run in with the evil Wraith make their expedition extremely dangerous.
"Enemy at the Gates" is the series' 100th and final episode. It aired on the Sci-Fi Channel on January 9th, 2009. The Wraith are working on a plan to utilize stolen Zero Point Modules to enhance a Hive Ship. Todd (Christopher Heyerdahl) is aware of the urgent need to destroy the vessel before it becomes too powerful, but when the Daedalus locates this ship the upgrade is already complete. Even more troublesome, the team learns that the Hive picked up a transmission from an alternate reality and the Wraith know the location of Earth.
Not only is Stargate Atlantis Fans' Choice noteworthy because it is completely designed by the fans, but it's also the only disc expected to be released in high definition. Even though this detail is specifically noted in the press release, I can't image a Blu-ray edition of each season not hitting the shelves at some point. Regardless, Stargate Atlantis Fans' Choice is essential for any SGA lover not necessarily for it's content but rather because it commemorates a great show and it's devoted viewers. You can get your copy for $29.99.
Staff Writer for CinemaBlend.
Your Daily Blend of Entertainment News
Thank you for signing up to CinemaBlend. You will receive a verification email shortly.
There was a problem. Please refresh the page and try again.