Get Your Own F$*#ing Copy Of Deadwood: The Complete Series On Blu-Ray This November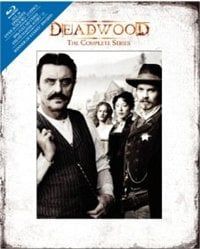 HBO Home Video brought its exemplary Rome last November, which was awesome. It also sparked hope that we might soon get a proper HD copy of HBO's Deadwood. Well, I don't know if this counts as "soon," but a Blu-ray copy of Deadwood: The Complete Series is finally nigh, set to arrive almost a year exactly after Rome this November 23rd.
The set will include all the content from the previous DVD release, plus another bonus disc loaded with four hours of new content. Oddly, the press release just lists "highlights" of this material, so presumably there is even more stuff than what I'm about to list below. Here's some of the stuff you'll get for your $209.98 (FYI, Amazon currently lists it for a much more reasonable $137.99):
"The Meaning of Endings" -- Creator David Milch's discussion on what would have happened had the Deadwood series continued
"The Real Deadwood: Out of the Ashes" -- A behind-the-scenes historical featurette on the wildest town in the West
"Q&A with Cast and Creative Team (Courtesy of the Paley Center for Media)" -- A panel discussion filmed at The Paley Center for Media with creator David Milch, executive producer Gregg Fienberg, and actors John Hawkes, Anna Gunn, Paula Malcomson, Powers Booth, Robin Weigert, Molly Parker, Timothy Olyphant, and Ian McShane
"Deadwood 360 Tour" -- A tour of the detailed and realistic sets and town streets created for Deadwood
"Al Swearengen Audition Reel (as performed by Titus Welliver)" -- Watch Titus Welliver's ("Silas Adams") mock audition for the role of "Al Swearengen"
Now if somebody will get around to putting out a Blu-ray of Carnivale...
Your Daily Blend of Entertainment News
Thank you for signing up to CinemaBlend. You will receive a verification email shortly.
There was a problem. Please refresh the page and try again.