HBO's Rome Getting Individual Season Blu-Ray Releases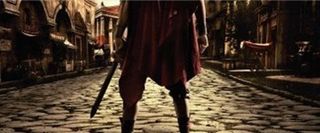 Many of us here at Cinema Blend have been enjoying the hell out of Spartacus: Blood and Sand, and its prequel series, Gods of the Arena. But Starz's hit series wasn't the first time a cable network took us for a violent, epic tour of ancient Rome in recent years. It's only been half a decade since HBO's lush, high-dollar Rome introduced us to Lucius Vorenus, Titus Pullo, and the rest. And while the show got a Blu-ray box-set release of the entire series back in 2009, HBO has announced plans for individual Blu-ray releases of the two seasons this summer. Rome: The Complete First Season and Rome: The Complete Second Season will arrive on Blu-ray June 7th, listing for $69.98 each.
Each of the five-disc sets will include all the extras from the earlier DVD and Blu-ray releases, so you won't be missing anything, but neither are they adding anything new. And since the complete Blu-ray set is still easy to find on Amazon and lists for $139.99, you won't necessarily be saving any money by buying the sets separately unless you find a good discount. Still, it's good news for Rome fans who can't afford to drop $140 all at once. Think of it as Rome on an installment plan.
You can click on the images below to see the rather lovely cover art for both seasons.
Image 1 of 2
Image 2 of 2