How To Train Your Dragon Is A Must-Buy Come October 15th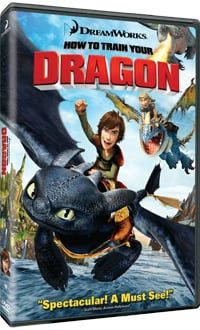 Just because Despicable Me and Toy Story 3 stole the animation spotlight this summer doesn't mean you should forget about one of the year's fantastic earlier releases, How to Train Your Dragon. Fans of the film will be thrilled to hear that Paramount Home Entertainment has scheduled it to hit DVD and Blu-ray on October 15th, and for those of you who missed this one in the theater, you better set the cash aside now, because this is a must-own.
On the island of Berk, dragon slaying is a way of life. The dragons come to take the sheep and the Vikings shoot them down. Unfortunately for Hiccup (voiced by Jay Baruchel), he's not really into the whole dragon-fighting thing. However, he winds up shooting down one of the fiercest dragons out there, a Night Fury. But rather than use the feat to make his dad proud, he befriends the beast and names him Toothless.
How to Train Your Dragon is easily one of the best films of the year. If you've got a heart, you're guaranteed to fall for Hiccup and Toothless. The DVD will run you $29.99 and the BD $39.99, and they're worth every penny...and that's the movie itself. Tack on a slew of special features and those prices will seem like a bargain. Check out the full list of bonus material:
Bonus Features
Animators' Corner (Blu-Ray Exclusive)
Trivia Track (Blu-Ray Exclusive)
"Legend of the Bonekeeper Dragon"
"Tech of Dragon"
"Viking-Sized Cast"
"The Way We See It"
"Meet Cressida Cowell"
"Going for the Gold"
"How to Draw a Dragon"
"Dragon Training Final Exam"
Filmmakers' Commentary
Trailers
Deleted Scenes
Staff Writer for CinemaBlend.
Your Daily Blend of Entertainment News
Thank you for signing up to CinemaBlend. You will receive a verification email shortly.
There was a problem. Please refresh the page and try again.