What The Silicon Valley Cast Is Doing Now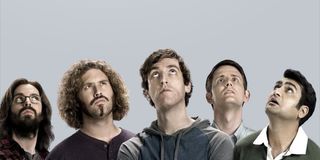 Through six seasons and 53 episodes, HBO's Silicon Valley, created by Mike Judge, John Altschuler, and Dave Krinsky, became one of the most acclaimed and celebrated comedy shows in Peak Television. Through its smart writing, a keen understanding of Silicon Valley's weird tech bubble, and witty performances from our talented ensemble, this foul-mouthed, confidently lewd, but unsuspectingly clever program became a launching pad for several of its leading stars, including Thomas Middleditch, Kumail Nanjiani, and Matt Ross. It also resulted in another win for the lauded cable service.
Now that Silicon Valley is done, what is the cast up to now? Let's take a look and see.
Thomas Middleditch (Richard Hendricks)
As Richard Hendricks, the Hooli coder who quits his job to pursue Pied Piper, his own compression application, Thomas Middleditch gave an Emmy-nominated performance at the center of Silicon Valley. This is his calling card role, though he was previously in The Other Guys and The Wolf of Wall Street. During his time on Silicon Valley, Middleditch was also seen in Joshy, Search Party, The Final Girls, Tag, Godzilla: King of the Monsters, and Zombieland: Double Tap, and heard in Captain Underpants: The First Epic Movie, Kong: Skull Island, and Penn Zero: Part-Time Hero, which he co-wrote.
Following Silicon Valley's finale, Thomas Middleditch was heard in Phineas and Ferb the Movie: Candace Against the Universe, Solar Opposites, and B Positive. Next, he stars in The Trail of the Chicago 7. He also appeared in Netflix's improv series, Middleditch and Schwartz, as well as several Verizon Wireless ads.
Zach Woods (Donald "Jared" Dunn)
As the persistently optimistic, consistently anxious, and darkly mysterious Donald Dunn, better known as Jared, Zach Woods remains a loyal advisor, considerate friend, and heartbreakingly hilarious comrade throughout Silicon Valley. For my money, he's by-and-far the HBO sitcom's best, brightest, and most bleakly funny character.
Prior to this role, Zach Woods was better known for playing Gabe Lewis in The Office. He was also seen in Veep, In the Loop, The Other Guys, The Heat, and The Good Wife. During Silicon Valley's run, he also appeared on Playing House, The Post, Spy, and Ghostbusters. Following Silicon Valley, Woods joined HBO's Avenue 5. He also starred in The Angry Birds Movie 2, Big Mouth, Downhill, and a new episode of The Simpsons. Most recently, Woods made his directorial debut with the short film David, which he also produced. It premiered at last month's Toronto International Film Festival.
Martin Starr (Bertram Gilfoyle)
In the role of Bertram Gilfoyle, a system architect and network engineer for Pied Piper, Martin Starr brought great deadpan wit to this sardonic Satanist. His dry delivery was always a constant source of scorching wit with pinpoint accuracy. Before he joined the team, however, Starr was most well-known for his roles in beloved short-lived shows like Freaks & Geeks and Party Down. He also played prominent roles in Knocked Up, Adventureland, This is the End, Walk Hard, Superbad, Dead Snow: Red vs. Dead, Burning Love, and Adult Swim's NTSF:SD:SUV::.
During his time on the program, Martin Starr was also notably seen in Spider-Man: Homecoming and Spider-Man: Far From Home. The actor also appeared in episodes of Life in Pieces. Following Silicon Valley's tenure, Starr acted in Honey Boy and lent his voice to Netflix's Tacoma FD. Next, he stars in Samaritan.
Kumail Nanjiani (Dinesh Chugtai)
Before he found fame writing/starring in the acclaimed indie dramedy, The Big Sick, for which he was Oscar-nominated, Kumail Nanjiani was most notably known for playing Dinesh Chugtai, a talented programmer who's often the butt of the joke in Gilfoyle's pranks, in HBO's Silicon Valley. Prior to this performance, Nanjiani was seen in Franklin & Bash, Life As We Know It, The Five-Year Engagement, Burning Love, and Portlandia. He also lent his voice to Adventure Time.
During his time on Silicon Valley, Kumail Nanjiani also hosted Comedy Central's The Meltdown with Jonah and Kumail and appeared in Goosebumps, Mike and Dave Need Wedding Dates, and Hot Tub Time Machine 2. Following The Big Sick's success, Nanjiani played leading or prominent roles in Stuber, The Lego Ninjago Movie, The Lovebirds, Dolittle, and Men in Black: International. Next, he'll star in Marvel's forthcoming Eternals and The Independent.
Matt Ross (Gavin Belson)
Playing the antagonistic Galvin Belson, the corporate scrooge who serves as the founder and CEO of Hooli and the man who's constantly trying to bring Pied Piper down a few pegs, Matt Ross played a boisterous, mean-spirited, but often entertaining adversary in Silicon Valley. As an actor, Ross is known for American Pyscho, The Aviator, Good Night and Good Luck, American Horror Story, and Big Love. Of late, however, Ross has jumped behind the camera more frequently. In addition to directing a few episodes of Silicon Valley, Ross made his feature debut with 2012's 28 Hotel Rooms and he notably wrote and directed 2016's Oscar-nominated Sundance hit, Captain Fantastic. Next, he's attached to helm Tomorrow and Tomorrow.
T.J. Miller (Erlich Bachman)
As Erlich Bachman, a boastful, arrogant entrepreneur who partially owns Pied Piper and later becomes one of its board of directors, T.J. Miller was part of Silicon Valley's main cast for four seasons before he publicly exited the series in 2017. The actor-comedian notably starred in Cloverfield, Yogi Bear, She's Out of My League, Get Him to the Greek, Unstoppable, Rock of Ages, and Extract prior to his standout role in this HBO series.
During his time on the popular program, T.J. Miller was also seen or heard in Transformers: Age of Extinction, Deadpool, Big Hero 6, Office Christmas Party, How to Train Your Dragon 2, and The Emoji Movie. Following Silicon Valley, Miller made appearances in Deadpool 2, Underwater, and Ready Player One. Next, Miller is slated to star in The Stand-In, though a slew of controversies have derailed his acting career for the foreseeable future.
Amanda Crew (Monica Hall)
The associate partner under Peter Gregory (then eventually Laurie Bream) who formed a close friendship with Richard Hendricks and the Pied Piper crew throughout their turbulent journey, Amanda Crew's Monica Hall was a constant presence in Silicon Valley's six seasons. Making her film debut in Final Destination 3, Crew appeared in movies like Sex Drive and Charlie St. Cloud and the short-lived Canadian show Whistler before starring in this acclaimed HBO comedy series. She was also seen in John Tucker Must Die, She's the Man, The Haunting in Connecticut, Jobs, The Identical, The Age of Adeline, Race, Table 19, Smallville, and Suits, prior to, or during, her time on this show.
Following Silicon Valley, Amanda Crew starred in Tone-Deaf and Most Wanted, as well as the short films American Murderer and Thanks Nurses. She also directed music videos for Rhett George and Aly & AJ.
Josh Brener (Nelson "Big Head" Bighetti)
Better known as "Big Head," Josh Brener's Nelson Bighetti wasn't always comfortably placed into Silicon Valley's bouncing narrative, but he was always an appealing, good-natured, if often aloof, supporting character who was Richard Hendricks' best friend and Erlich's former tenant. Certainly, his often accidental moments of failure and triumph were a nice reprieve from Pied Piper's high stakes, make-or-break difficulties.
Outside of this HBO series, Josh Brener is also known for his roles in Maron and The Big Bang Theory. During his time in Silicon Valley, Brener was also heard in shows like Star Wars Rebels, Star Wars Resistance, and Rise of the Teenage Mutant Ninja Turtles. He can also be heard in DuckTales and 101 Dalmatian Street. Last year, Brener was seen in What Men Want and episodes of Modern Family and The Neighborhood. Next, Brener stars in the romantic drama, All My Life.
Christopher Evan Welch (Peter Gregory)
As Peter Gregory, the intelligent, socially awkward billionaire founder and CEO of Raviga Capital who agrees to invest in Richard Hendrick's start-up, Pied Piper, Christopher Evan Welch was set to be a major player in Silicon Valley. Quite unfortunately, however, the actor didn't make it past the first season's production. Welch was battling lung cancer during filming, and he tragically passed away on December 2nd, 2013. He was 48.
Outside of Silicon Valley, Christopher Evan Welch voiced narration for Vicky Christina Barcelona. He was also seen in The Master, Law & Order, The Stepford Wives, Synecdoche New York, Lincoln, The Sopranos, and several more movies and shows. This show was the actor's final role. Away from acting, Welch also sang in the rock band, Ottoman Bigwigs. He's most certainly missed.
Jimmy O. Yang (Jian-Yang)
Previously playing a recurring character, Jimmy O. Yang became a main cast member during Silicon Valley's second season. As Jian-Yang, he remained part of the lead ensemble until the show's conclusion. Often taking advantage of Elrich's ignorance, Jian-Yang was consistently the source of annoyance to his landlord, though he inspired several memorable b-plots. Certainly, Silicon Valley became the stand-up comedian's most high-profile acting part.
Through this show's popularity, Jimmy O. Yang found roles in Crazy Rich Asians, The Happytime Murders, Patriots Day, and The LEGO Movie 2: The Second Part. This year, he starred in Like A Boss and Fantasy Island. He also played a recurring role in Space Force. Next, he'll be seen in The Opening Act and heard in Wish Dragon. He also published his memoir, How to American, in 2018, and released his first stand-up special on Amazon Prime in May.
Suzanne Cryer (Laurie Bream)
Following the unexpected passing of Peter Gregory, Suzanne Cryer's Laurie Bream takes over CEO duties at Raviga Capital. Her highly sophisticated but socially inept character was an unsuspecting and, in my opinion, underutilized comedic talent. Her quick wit and sharp performance resulted in many big laughs throughout. Prior to Silicon Valley, Cryer was an actress of the stage and screen who was best known for her role in Two Guys, a Girl, and a Pizza Place. During her time in Silicon Valley, Cryer was also seen in 10 Cloverfield Lane, Lucifer, and The Fosters. Following Silicon Valley, Cryer starred in episodes of All Rise and Hawaii Five-0.
Chris Diamantopoulos (Russ Hanneman)
Russ Hanneman is a scene-stealer. As the brash, cocky, foul-mouthed billionaire investor infatuated with his wealth, his big ego, and his pride, Chris Diamantopoulos played a fiery personality who was always a quick source for a good laugh. Prior to his recurring role in this series, Diamantopoulos was most notably seen playing Moe Howard in 2012's The Three Stooges. He also appeared in The Starter Wife, State of Mind, The Office, Up All Night, Arrested Development, About A Boy, Episodes, and more. And he starred in Broadway's Waitress in 2017. Most notably, Diamantopoulos is the voice of Mickey Mouse in Mickey Mouse. He also appeared in Good Girls Revolt and The Dangerous Book for Boys.
Following Silicon Valley, Chris Diamantopoulos starred in The Twilight Zone and Elementary, and he lent his voice to several recent or upcoming projects. Next, he stars in Red Notice.
Stephen Tobolowsky ("Action" Jack Barker)
Though he only appeared in the third and fourth seasons of Silicon Valley, Stephen Tobolowsky's "Action" Jack Barker provided an intriguing new role to Silicon Valley's mid-season juncture. An accomplished, celebrated character actor best known for Groundhog Day, Memento, Buried, Garfield: The Movie, Californication, Deadwood, Glee, Mississippi Burning, Single White Female, Spaceballs, and several more, Tobolowsky is an exceptionally distinguished performer, one who only continued to earn respect and acclaim by hosting the autobiographical podcast, The Tobolowsky Files. Outside of acting, Tobolowsky is also the author of three books, most recently including 2017's My Adventures With God. He also co-wrote David Byrne's True Stories.
Following Silicon Valley, Tobolowsky picked up a main role in One Day at a Time. He also plays a recurring role in Schooled and The Goldbergs. Next, he's slated to star in Butterfly in the Typewriter.
Who's your favorite Silicon Valley actor? Let us know in the comment section below!
Your Daily Blend of Entertainment News
Will is an entertainment writer based in Pittsburgh, PA. His writing can also be found in The Playlist, Cut Print Film, We Got This Covered, The Young Folks, Slate and other outlets. He also co-hosts the weekly film/TV podcast Cinemaholics with Jon Negroni and he likes to think he's a professional Garfield enthusiast.