John Hurt And Elijah Wood Fight Crime In This Exclusive Clip From The Oxford Murders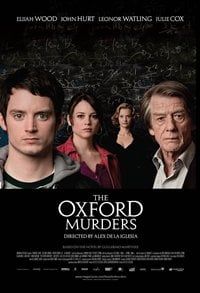 John Hurt voiced Aragorn in the 1978 Ralph Bakshi animated version of Lord of the Rings. Elijah Wood played Frodo in Peter Jackson's live-action trilogy. In The Oxford Murders, they team up to solve a murder. If only Andy Serkis was around to provide comic relief...
Based on a novel by Argentine mathematician/writer Guillermo Martinez, The Oxford Murders stars Hurt as Oxford professor Arthur Seldom, a prestigious man idolized by American graduate student Martin (Wood). Martin is lodging at the home of one of Seldom's friends, and the two cross paths one day just in time to discover the old woman murdered in her room. What seems to be an isolated incident soon proves to be the first of a series of killings, and Seldom and Martin team up to try and solve the mystery.
The film, directed by Spanish director Alex de la Iglesia, actually came out back in 2008, but it's getting an American release from Magnolia Pictures on August 6th. You can get an early look at the murder mystery this Friday, July 2nd, via VOD, Xbox Live, Playstation, Amazon, and Vudu. You can get more info over at the movie's Facebook page, but in the meantime we've got an exclusive clip from the movie. Featuring a snazzy tracking shot, this clip shows Arthur and Martin discovering the rather unpleasantly dead old woman, an incident that will challenge them to embrace their inner Holmes and Watson. Here's The Oxford Murders, ladies and gents...
Image 1 of 4
Your Daily Blend of Entertainment News