The West Wing Available In HD For The First Time As Digital Download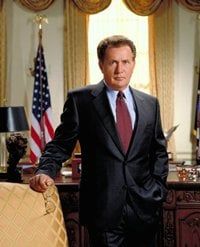 I didn't really watch The West Wing while it was airing, so I missed out on all the water-cooler buzz as Sorkin's masterful political drama twisted, turned, and pattered its way through a seven-season run. Thankfully, the wife asked for a DVD set of the complete series a while back and we played catch up. It's a great show, even though the later, Sorkin-free episodes don't live up to the high-water mark of the first few seasons. In fact, the only thing that might make the experience better is if I could watch it in high-definition.
Warner Bros. has heard our lamentations. While there's still no word on a Blu-ray release of the series anytime soon, The West Wing is now available in high-def for the first time as a digital download. You can purchase all seven seasons from online retailers including iTunes, Amazon Video On Demand, and others. You can also check out a brief interview clip with executive producer Thomas Schlamme below.
Your Daily Blend of Entertainment News