You Think Ginormica Is Huge? Check Out Monsters Vs. Aliens On DVD And Blu-Ray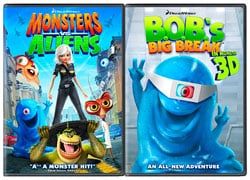 What do you do when aliens attack? Find some monsters to fight them, of course! Monsters vs. Aliens was pretty big when it hit theaters back in March, but it's going to get even bigger when it's released on DVD and Blu-ray September 29th.
Susan Murphy's (Reese Witherspoon) dream wedding goes awry when she's hit by a meteorite and turned into a giant. Apparently it's not what's on the inside that counts for her fiancé, Derek Dietl (Paul Rudd), because he bolts when the military arrives and classifies Susan as the monster Ginormica. She's thrown into a top-secret facility where her roommates include the gelatin creature B.O.B. (Seth Rogen), mad scientist Dr. Cockroach (Hugh Laurie), half-fish/half-ape Missing Link (Will Arnett), and the enormous Insectosaurus. When an alien named Gallaxhar (Rainn Wilson) attacks, the government has no choice but to let the monsters out into the open to try and stop Gallaxhar from destroying the world.
The action and adventure continue with B.O.B.'s Big Break. Rogen, Arnett, and Laurie return to bring life to their characters so they can bust out of Area 52. There's only one thing stopping them: General W.R. Monger (Kiefer Sutherland).
You'll have three buying options for Monsters vs. Aliens, and even the lesser of the bunch is Ginormica-sized. The single-disc DVD comes with a making-of featurette, deleted scenes, "DWA Music Video Juke Box," filmmaker commentary, "The Tech of Monsters vs. Aliens," and some sneak peeks, including the trailer for the Monsters vs. Aliens videogame. The BD version and Ginormous Double DVD Pack will blow even Insectosaurus away. The first disc of the Double DVD Pack is identical to the single-disc DVD, and the second features B.O.B.'s Big Break, as well as a karaoke music party, a paddle-ball game, and six DVD-Rom features. Opting for the BD will cut out the DVD-Rom pieces but add on "Animators' Corner" picture-in-picture, as well as a trivia track. To get a look at all of the details take a look at the list below.
The BD and Ginormous Double DVD Pack will both come with four pairs of 3D glasses, so you can watch the film with the extra dimension. I have yet to see a film that I can comfortably enjoy in 3D at home, but perhaps that will change with Monsters vs. Aliens. No word on prices yet, but the Ginormous Double DVD Pack is expected to cost under $25. Check out the special features line-up below:
MONSTERS VS. ALIENS GINORMOUS DOUBLE DVD PACK
Modern Monster Movie Making
Monger's Plan
War Room Turns on Monsters
If You Don't Know
DWA Music Video Juke Box
Filmmaker Commentary
The Tech of Monsters vs. Aliens
How to Train Your Dragon
Shrek the Musical
Kung Fu Panda World
The Penguins of Madagascar
Shrek the Halls
Secrets of the Furious Five
Monsters vs. Aliens Activision Game trailer
B.O.B.'s Big Break (in Monster 3D & 2D)
"More Than A Woman" with B.O.B.
"Born to Be Wild" with Dr. Cockroach & Missing Link
"I Will Survive" with Ginormica
Paddle Ball Game in Monster 3D
Monsters vs. Alien Activision Game Demo with Cheat Code
Creature Feature Fun Factory
Kung Fu Panda World
Shrekster.com
MonstersVsAliens.com
DreamWorksAnimation.com
Your Daily Blend of Entertainment News
Staff Writer for CinemaBlend.