Batman: Return To Arkham Could Be Delayed, Get The Details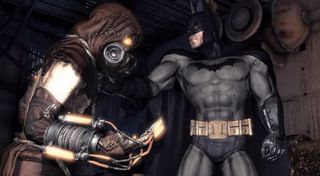 (Image credit: Warner Bros. Games)
Batman: Return To Arkham has been moved out of its summer release window, originally intended to launch on June 10th. Now reports are stating that the game could be delayed as far back as November of this year.
Game Informer is reporting that Eurogamer has multiple sources that have confirmed to them that Batman: Return To Arkham, won't be releasing in the summer at all but will be delayed all the way to November for the Xbox One and PS4.
Various sites have been reaching out to Warner Bros., Entertainment to get their take on the news and whether or not the game is actually, legitimately delayed, and if the delay is as far as the reports are stating.
Delaying a game from June to November is no laughing matter. Apparently there are some serious issues afoot if Warner Bros., is pushing the game that far out of its original release window.
Port house Virtuous Games is working on the Xbox One and PS4 versions of Batman: Return To Arkham, but apparently things aren't going as planned given the rumored five month delay.
Previously, videos emerged comparing the remastered editions of Batman: Arkham Asylum and Batman: Arkham City from the Return To Arkham package with the original PC versions of both games and they found that some serious downgrades have been implemented for the Xbox One and PS4 versions of games that are now more than a half decade old.
It definitely calls into question what exactly happened that caused the games to get hit with significant graphical downgrades and a significant delay on its release?
Warner Bros., is no stranger to these kind of controversies. Last year they suffered major backlash over the PC release of Batman: Arkham Knight. Port house Iron Galaxy Studios came under fire alongside Warner Bros., when PC gamers realized that the game was broken, seemingly beyond repair. Frame-rate issues, syncing issues, rendering issues, graphical issues and loading issues all plagued the PC release of Batman: Arkham Knight.
Six months after the game released they still couldn't get the PC version working properly, forcing Warner Bros., to enable PC gamers to get refunds on the game all throughout the end of 2015, even if they had purchased the game back in June.
It was a harsh lesson that Warner Bros., had to learn... especially following up on the fact that their PC release of Mortal Kombat X was received with less than stellar user reviews as well. High Voltage was in charge of porting over NetherRealm Studios' premiere eighth-gen fighter from the Xbox One and PS4 to PC, and the results were less than canny.
While the publisher's answer to some of these problems has been to cancel or forgo the release of their newer games on PC altogether, that still hasn't stopped the problems of porting issues, as evidence with Batman: Return To Arkham's delay.
The company had previously sent out word that the title would be missing its June date but they didn't specify when it would be releasing. At this point if the rumors are true then we won't be seeing the Dark Knight battling through the Arkham Asylum or Arkham City until this November.
Staff Writer at CinemaBlend.
Your Daily Blend of Entertainment News
Thank you for signing up to CinemaBlend. You will receive a verification email shortly.
There was a problem. Please refresh the page and try again.