Mortal Kombat X Is Adding Leatherface And Three More Characters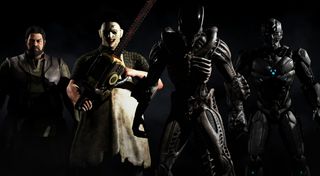 NetherRealm Studios has been teasing the second Kombat Pack for Mortal Kombat X. Well, we finally know who the next four kombatants are in the second DLC pack for Mortal Kombat X and it includes iconic horror movie villain, Leatherface.
The Texas Chainsaw Massacre killer will be joined by three others in the DLC that you can check out below in the trailer that was posted up on the official Mortal Kombat YouTube channel.
Leatherface is joined by the Xenomorph from the movie Alien, as well as Bo Rai Cho and the Tri-Borg.
So obviously, Leatherface is the one from the movie and most people recognize who that is. He was received with some mixed receptions. Some people thought he added too much of a horror-movie element to Mortal Kombat X, even though now we can finally have a Jason versus LeatherFace battle, which could be pretty cool. Others – those who grew up on the old Texas Chainsaw Massacre movies – actually thought adding him to the game was a great choice and a nice head nod to the classic series.
Another contentious character was the Xenomorph. Most people recognize this deadly character from the series made popular by Ridley Scott, James Cameron and Sigourney Weaver. The character was championed by some in the comment section for being a mix of the classic alien and Baraka, while others felt the character slot should have just gone to one of the other older Mortal Kombat characters. Personally, I think it's a perfect setup to pit the Xenomorph against the Predator. I mean, who doesn't see that coming? I can already imagine plenty of YouTube videos for those match-ups.
Bo Rai Cho was mostly ignored. He was never that great a character nor was he the worst. He was always middle-tier with some good moves to troll other players and create really frustrating scenarios. Having him return in Mortal Kombat X is nothing special but nothing terrible either. It's a "meh" kind of inclusion. There's always one of those in every DLC pack.
The one character that seemed to get the most love was Tri-Borg, a fusion of Cyrax, Sektor and Cyborg Smoke. It's an interesting character choice given that it's a mix of all the three most famous cyborgs in Mortal Kombat lore. Tri-Borg was well received amongst fans in the comment section and will likely be one of the more popular characters in the tournament scene, assuming his three variations are solid.
The one character most requested by majority of the people disappointed in the four DLC characters was Fujin.
He never really had a big presence in Mortal Kombat but some of his outfits were really awesome and he had a righteous fighting style. It would be nice to see him return in Mortal Kombat X, especially after he made that brief cameo in the story mode.
The four new characters in the second Kombat Pack for Mortal Kombat X will be made available on Xbox One, PS4 and PC in the early first quarter of 2016.
Staff Writer at CinemaBlend.
Your Daily Blend of Entertainment News
Thank you for signing up to CinemaBlend. You will receive a verification email shortly.
There was a problem. Please refresh the page and try again.