First Batman: Return To Arkham Trailer Is Dark And Filled With A Ton Of Batman Villains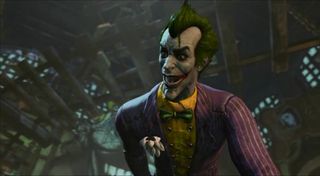 Warner Bros., Interactive Entertainment released the first trailer for Batman: Return to Arkham, featuring a look at the HD remastered editions of Batman: Arkham Asylum and Batman: Arkham City for the Xbox One and PS4.
The trailer was posted up over on the official WB Games YouTube channel, but they conspicuously turned off the comment section, likely in a bid to cut down on complaints from PC gamers who won't be receiving Batman: Return to Arkham and PC gamers still asking Warner Bros., to fix Batman: Arkham Knight.
But as for the trailer itself, it's cut together with clips from both Arkham Asylum and Arkham City, featuring some of Batman's most iconic villains giving the Dark Knight a bit of a rough time. Graphically they've scaled up the resolution and texture quality so that both of the seventh gen titles look visually interchangeable. If it wasn't for Batman's suit going through some alterations you would have guessed they were showing off the same game in each of the clips.
Batman: Return to Arkham was actually leaked well ahead of Warner Bros., officially announcing it. In fact, retailers had up ads and posters in certain regions giving gamers the tip off that the higher definition remastered versions of the games were set to arrive in a bundle pack on June 10th. The trailer doesn't actually confirm the release date but it does set the release within the summer window. It will be interesting to see if WB Games decides to move the game out of the June 10th slot since it was leaked or if they'll just stick with it since it's already out there?
One of the things I'm sure a lot of gamers are curious about is how well the remastered versions of the seventh gen Batman titles will run on the PS4 and Xbox One? The outsourcing port house known as Virtuos Games are handling the porting duties for Batman: Arkham Asylum and Arkham City. The company is probably best known for their ports of games like Mortal Kombat X, XCOM and Injustice to mobile devices, as well as Final Fantasy X and Final Fantasy X-2 being ported to PS4.
I would like to hope that everything works out well enough with Batman: Return to Arkham, because it would be unfortunate if the ports of the older titles turned out like Iron Galaxy Studios' port of Batman: Arkham Knight to PC.
Anyway, the comments being disabled on the YouTube video is not a good omen for the general consumer perception of the products, but we'll see how it all comes together as more videos and gameplay footage surfaces for Batman: Return to Arkham. The game is due for release only on the Xbox One and PS4 this summer.
Staff Writer at CinemaBlend.
Your Daily Blend of Entertainment News
Thank you for signing up to CinemaBlend. You will receive a verification email shortly.
There was a problem. Please refresh the page and try again.