Why The PlayStation 4 Pro Is Missing 4K Blu-Ray Support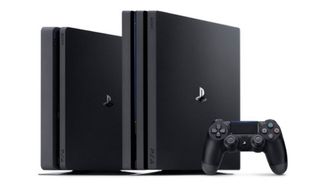 There's been a lot of talk about what the PlayStation 4 Pro will add to the gaming scene when it launches later this year, but it's actually a feature that the Pro will be missing that's generating some of the most buzz, namely 4K Blu-Ray.
In a recent interview with The Guardian, Sony Interactive Entertainment boss Andrew House discussed the many features that will come packed in the PlayStation 4 Pro. Noticeably missing from that list of features, though, was the ability to play 4K Blu-Ray discs, something some folks consider a key component of the future of home entertainment.
According to House, though, Sony has taken a long, hard look at the market and determined that 4K Blu-Ray was not a high priority.
You can't really argue with House's reasoning, but this is kind of a situation where "why" is less important than "why not." Unless having a 4K Blu-Ray player would have caused the price of the PlayStation 4 Pro to spike, or perhaps there are heat/resource/reliability concerns, it seems kind of odd that the latest technology wouldn't be part of the Pro equation, especially if that seems to be the entire focus of the hardware itself. In other words, even if Sony doesn't feel it would be a huge draw, why not include the best driver for physical media on the market?
But even as I ask that, House's argument is a good one. The number of people who own a 4K TV is growing, but it's not like they're flooding into homes at the moment. As was pointed out during yesterday's event, the whole point of the Pro is to attract gamers who want "the best tech" and fill their homes with exactly that. But even then, how many people do you know who are not only equipped to get the most out of a 4K Blu-Ray player, but also still buy physical media?
We don't have statisticians on hand but, according to Head, the folks working at Sony have decided that the people most likely to take advantage of the PlayStation 4 Pro are also the folks who are streaming in 4K, not loading discs when they want to watch a movie.
It will be interesting to see how this all pans out. Will the lack of a 4K Blu-Ray player hurt the PlayStation 4 Pro, especially if that technology is available on newer models of the Xbox One? Or, is this something that will cause a lot of internet chatter for about a week and, in the end, it turns out that Sony was 100 percent correct about the trends and a lack of need for the device? Let us know your predictions in the comments below.
Your Daily Blend of Entertainment News
Staff Writer for CinemaBlend.
Your Daily Blend of Entertainment News
Thank you for signing up to CinemaBlend. You will receive a verification email shortly.
There was a problem. Please refresh the page and try again.