What Went Wrong With Castlevania: Lords Of Shadow 2, According To The Developer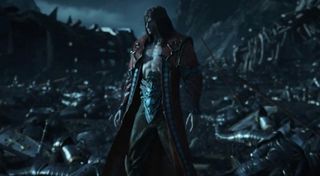 (Image credit: Konami)
One of the most talked about reboots during last gen was Mercury Steam's Castlevania: Lords of Shadow. The game really knocked it out the park with great voice acting, a Gothic atmosphere and a compelling story. So what went wrong with Castlevania Lords of Shadow 2? A lot.
According to an interview that Eurogamer had with Mercury Steam's producer Dave Cox and co-founder Enric Alvarez, the troubles with getting Lords of Shadow 2 to live up to the demanding legacy that was created both by the Castlevania franchise and the original Lords of Shadow. According to Alvarez, they may have jumped the shark by focusing too much on the psyche of Dracula as opposed to maintaining the wonderment and exploration presented in the first game...
Those unfortunate decisions included things like stealth/puzzle segments involving Dracula as a rat (and surprisingly not as a bat), as well as a more insular story and level setup as opposed to what was presented to gamers in the original Lords of Shadow.
The first game followed Gabriel Belmont in his quest for answers and resolution revolving around his wife... saving her would free him from the burdens of the world. But things didn't quite turn out the way that he had planned and there was a descent into the devil's den where vampires roam and the thirst for blood became the lifeline for which Belmont would eventually be able to face his demons.
Where the first game dealt with the descent of Belmont, a lot of gamers and critics seemed convinced that the second game would deal with the ascent of Dracula. Things, however, did not quite turn out the way everyone expected when Lords of Shadow 2 finally came into the picture.
Critics lambasted the game from top to bottom, and gamers were a little reserved about diving into it at first, but according to both Alvarez and Cox, Castlevania: Lords of Shadow 2 ended up selling a lot better over the tail end than what some people were led to believe. The duo were unable to share specific unit sales due to a non-disclosure agreement that Konami has stamped on developers, but, according to the interview, the title sold well enough.
Unfortunately for Mercury Steam, the game did not have the sort of front-loaded sales that Konami happened to be looking for out of a Lords of Shadow sequel and they departed ways from Mercury Steam after 17 years of service.
It's quite sad, really, because Castlevania: Lords of Shadow 2 deserves a redux edition that overhauls the bad parts, fixes up the story where it feels lacking and expands on the universe to give gamers the kind of sequel they were expecting to one of the breakout hits of the seventh generation of gaming. Maybe a decade from now we'll get yet another Castlevania reboot, they'll do it right from the start and then we'll get a proper sequel that follows-up on the reboot in a proper way; then everyone gets to go home happy.
Your Daily Blend of Entertainment News
Staff Writer at CinemaBlend.
Your Daily Blend of Entertainment News
Thank you for signing up to CinemaBlend. You will receive a verification email shortly.
There was a problem. Please refresh the page and try again.