Robert Carlyle Returns For Castlevania: Lords Of Shadow 2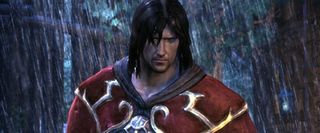 It's been confirmed that Hollywood actor, Robert Carlyle, best known for roles in movies like The Full Monty, Formula 51 and 28 Weeks Later, will be returning to play the lead character of Gabriel Belmont in Castlevania: Lords of Shadow 2.
According to That Video Game Blog, the actor has been pegged to return as the titular character in the AAA title from Konami, and they received confirmation by reaching out to Dave Cox, the head of product planning at Konami as well as the producer on the upcoming Castlevania: Lords of Shadow 2. Cox responded to the query on twitter, simply stating that "Yep Bobby is back :)"
Fans of Carlyle were treated to an interesting performance in the original game, as he played the heart-broken and sullen warrior Garbiel Belmont, a Holy Knight from a special order, out to save his wife who is trapped in limbo, as forces of an unknown and dark nature vie to tip the balance in their favor. Lords of Shadow is a bit more complex than that and is similar to Dante's Inferno but a little less introspective.
The second game deals with the continued story of Belmont as he becomes the very thing he fought against in the first game, following the events of the DLC. Additional characters also hop into the fray but there hasn't been any word on how they play into the game's story. The new E3 trailer gives you a brief glimpse of what to expect from the game, which is set for release in 2013 for the Xbox 360 and PS3.
Staff Writer at CinemaBlend.
Your Daily Blend of Entertainment News
Thank you for signing up to CinemaBlend. You will receive a verification email shortly.
There was a problem. Please refresh the page and try again.