Castlevania: Lords Of Shadow 2 Will Be MercurySteam's Last Game In Series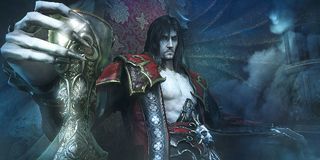 MercurySteam won't be making Castlevania games until the end of time. The developer said at San Diego Comic Con that they're going to let another studio take the reins after they've finished Castlevania: Lords of Shadow 2.
"Nobody on the team ever felt like we owned Castlevania," Lords of Shadow 2 producer Dave Cox told Destructoid at SDCC. "We always felt it was our responsibility now but it wouldn't be ours forever. Let's do what we're going to do, tell our story, and move on."
Cox added that MercurySteam has notified "Japan headquarters" - presumably Konami - of their decision. He says that the developer wants to move onto other things rather than doing Castlevania until they run out of ideas.
"There's nothing worse than when somebody's got something to say, and when they've said it, they just keep talking. We've got a beginning and end, and it's a cool ending and a cool story. Once we've done that, it's time to say to somebody else, 'Now it's your turn.' Maybe it will be a young producer in the company looking for his first break. I think you've got to bring in fresh blood."
The first Lords of Shadow, released in 2010, rebooted the series story. Players take on the role of Gabriel Belmont, a knight in the Brotherhood of Light, in his quest to revive his deceased wife. However, by the end of his quest, he has become the vampire lord Dracula. MercurySteam followed that game up with the 3DS exclusive Mirror of Fate, in which Gabriel's descendants try to kill him. Mirror acts as a bridge to the plot of Shadow 2, once again starring Gabriel. The vampire lord has woken up after a long slumber and must regain his powers in order to face a new threat.
It seems like every book, film and game that comes out now becomes a trilogy or annualized, never-ending franchise. MercurySteam's decision to step away from the series is refreshing. They deserve better than to become "the Castlevania studio" and churning out a new Lords of Shadow every fall. I'm not naive enough to think that Konami will take a break from the series as well but at least they'll be enlisting a studio with something new to say rather than having MercurySteam spit out sequels until the reviews and sales tank.
MercurySteam isn't owned by Konami so they're free to do what they like. It's not clear what their next move will be. Maybe they'll help Konami reboot another series? If they decide to embark on a completely new IP, however, they'll have the benefit of all the good will and prestige they racked up from Lords of Shadow.
In the meantime, they still have to finish Lords of Shadow 2. The game's expected on PS3 and Xbox 360 by the end of the year.
Your Daily Blend of Entertainment News
Staff Writer at CinemaBlend.