Hideo Kojima Has A Unique Appreciation Of Westworld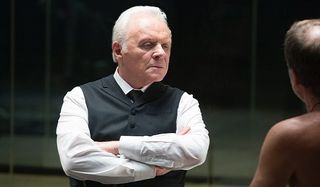 Westworld is turning a lot of heads on HBO, including that of legendary game developer, Hideo Kojima. The brain behind the Metal Gear series apparently took special interest in a recent quote from the character played by Sir Anthony Hopkins, saying that it gives insight into his own design process.
Hideo Kojima took to Twitter recently saying he had just watched the second episode of the new hit show, Westworld. In it, Hopkins' character gives a brief monologue that apparently spoke directly to Kojima's heart.
In case you missed that episode of Westworld, Hopkins takes a moment to explain why folks are intrigued by the titular virtual location. He says that people come back because of the subtleties and the details and because of the things they discover there. I especially like the bit about the fact that folks are not looking for a story that tells them who they are. He argues that people already know who they are and "are here because they wanted a glimpse of who they could be."
Going beyond Kojima, that seems like Basic Game Design 101, and it's great to see it explained so eloquently. Since Kojima is one of those rare developers who can basically be seen in the DNA of every game he makes, it's no surprise either that he agrees so strongly with this statement.
While Kojima is best known for his Metal Gear series, he's also the mind behind such series as Zone of the Enders, Policenauts, Boktai, and Snatcher. You'd be forgiven for not being too familiar with his entire library of work, as only the Zone of the Enders reached big success here in the States. Some weren't even released here. The lineup isn't longer because, well, Metal Gear has been Kojima's major focus for almost his entire career.
After his ugly split with publisher Konami last year, though, we now know that he's working on a new and seemingly street-rat-crazy title called Death Stranding. The reveal trailer is full of a lot of strange imagery but, more recently, Kojima confirmed that the game is going to be about the connections people make within the game.
In other words, it looks like Kojima is aiming to give us something totally new, something we've never seen before, and something that lives up to this quote quite nicely. His games tend to explore the idea of humanity and all of its bizarre quirks. And just as the quote outlines, it's likely Death Stranding will focus on not who we are, but who we could become.
If there's one thing we know about Kojima, his games are never just about a guy sneaking around and killing enemy soldiers. He dives into more ideas and topics than we could ever hope to list. Based on how much he loved this quote from Westworld, we expect that trend to continue.
Your Daily Blend of Entertainment News
Staff Writer for CinemaBlend.