The Next Xbox One Controller May Be A Blast From The Past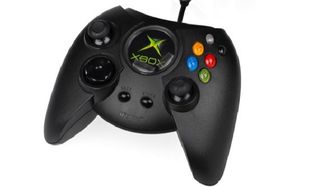 For those lumberjacks in the audience with massive hands, you'll be happy to hear that a new Xbox controller could be in development that harkens back to a bulky beast of old.
Over on Twitter, Seamus Blackley has stated that he is moving forward on a project to bring a new controller to the Xbox One that's designed to look and feel like the original Xbox controller known as the "Duke."
Part of us wants to believe this is just Blackley having fun, but it looks like he's being totally serious here. One of the co-creators of the first Microsoft console, the original Xbox, Blackley was also partially responsible for said console's original massive controller.
As we reported a couple of months back, Blackley has been very open with the history of the Duke controller. In an earlier series of Tweets, he explained that, at the time of development, one of the team's favorite consoles was the Sega Dreamcast, another gaming machine notorious for having a monstrous controller.
Outside of design appeal, Blackley said that another reason for the Duke's size was that they were working with a manufacturer who literally could not make the components smaller at the time. Combine that with a love for controllers that could be used to fend off a timber wolf and you've got yourself the makings of the Duke.
To be fair, while Blackley and a select group of faithfuls still seem to love the Duke, many folks were unhappy with the controller's design. The D-pad was notoriously bad and the face buttons were positioned too close to the right thumbstick. And speaking of that right thumbstick, it was designed to have a convex curvature rather than concave. In other words, rather than allowing for your thumb to rest comfortably on the thumbstick, it was constantly slipping off.
Since Blackley says he's working on a new Duke, we wonder if he'll take this opportunity to redesign the controller a bit. If you want to keep the bulk, that's fine, but that doesn't mean you can't put in a better d-pad and thumbsticks, as well as slide those face buttons up a bit. Also, we imagine those triggers and shoulder buttons will need to be retooled a bit. Otherwise, if Blackley thinks there's a market out there for a retake on the Duke, we're certainly excited to see this blast from the past make a return on the Xbox One.
And thanks to backward compatibility and all of these remakes that are so popular these days, you could even play the original Halo or Cel Damage and feel like you're back in 2002.
So what are your thoughts on a new Duke, reader? Excited or do you think it should be left in the past? Drop your thoughts into the comments below.
Staff Writer for CinemaBlend.
Your Daily Blend of Entertainment News
Thank you for signing up to CinemaBlend. You will receive a verification email shortly.
There was a problem. Please refresh the page and try again.