The Xbox One Might Be Releasing Another Console After All, Here's What We Know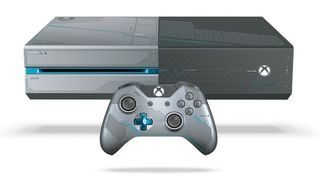 There are blurry images floating around, documents being sifted through and now production notes indicating that a new Xbox One home console unit could be on the way. It isn't verified yet, but some of the new information points to an Xbox One second generation home console.
Shacknews picked up information from NeoGaf indicating that a new Xbox One model has been in production since February of this year, producing approximately 1.2 million units per month. According to the thread on NeoGaf some individuals translated the codename of this project as Xbox One "Second Generation". Others assumed it was Xbox One II.
According to a leaked image, the unit will be running Kingston RAM, which some are assuming will be DDR4, and there's a weight metric between 600 and 800g, which Shacknews points to being less than 2lbs. Of course there's no way you could fit all of the necessary components into a 2lbs unit unless it was as small as the Wii. Many are pointing to the possibility of the weight metric relating to the reduction in size and weight by 2lbs, as opposed to that being the final weight of the console itself.
The above estimate may not be far off given that links in the NeoGaf thread point to an article from back in 2014 by Digital Foundry that reveals that Microsoft was implementing smaller 20nm chips to replace the 28nm chips in the current Xbox One unit. They also mentioned that the smaller chip designs would mean more chips in the unit and more processing power in a smaller space, thus reducing both the size and weight of the overall console. They speculated that the size could shrink physically by nearly two times given that it would be drawing less power and taking up less space. Knocking off 2lbs from the 7lbs beast that is the current Xbox One unit seems reasonable.
However, most people are curious how this fits into the ecosystem that is currently setup by Microsoft for the Xbox One? Head of the Xbox division, Phil Spencer, had mentioned to Game Informer that he was "not a big fan of Xbox One and a half," but that's not really the same thing as a slimmed, trim and cheaper Xbox One... is it?
While he may have not been a big fan of the Xbox One and a half, it was previously reported by Eurogamer that the head of the Xbox division did mention that there would be new hardware capabilities coming out during a generation as opposed to starting a new generation.
One thing is for sure, we know that Microsoft isn't heading down the route of VR this gen with the Xbox One. Spencer firmly made it known that they would not be implementing VR support for the console, and that makes sense given that it really doesn't have the hardware to support the specs of VR. Thus, this means that the changes they're likely making to the console could be to bolster market appeal with a cheaper price and a snazzier design.
The only thing we have to do now is wait for the actual announcement, which many assume will happen at this year's E3 in Los Angeles, California.
Your Daily Blend of Entertainment News
Staff Writer at CinemaBlend.