How To Hear Carrie Fisher's Voice In The Original Dishonored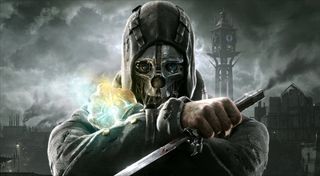 (Image credit: Bethesda)
There have been several high profile Hollywood celebrities lending their voices to the characters in the Dishonored games, but one Hollywood voice that you probably didn't know was in the game was Carrie Fisher. Well, there's a way to hear her voice and we'll explain how.
So before getting into the "how", let's first talk about the "when". Arkane Studio's director Harvey Smith let gamers know via Twitter that Fisher had a small role in Dishonored. He closed out the tweet with a respectful gesture, which quickly resulted in a flood of people asking how they can hear her voice in the original game.
Glixel explained how to access Fisher's voice in the 2012 release of Dishonored. It's actually not quite as hard as you may imagine, and some of you may have inadvertently unlocked her voice anyways while playing through the game. She's only present for a short bit as an Easter Egg, but you can discover her by killing the male propaganda officer inside of Dunwall Tower during the mission "Return to the Tower".
During the mission, make your way through the tower and you'll find the Propaganda Officer at the top of the tower in the radio room walking around. It doesn't matter how you kill him, just kill him so that he doesn't get back up again. Once you kill him you can then exit the room and continue the mission. You don't have to kill anyone else if you don't want to.
Exit from the Dunwall Tower and make your way to the dingy so you can return to the Hound Pits Pub. You'll be able to hear Carrie Fisher's voice over the public announcement radio while walking through the streets after you get out of dingy. Her voice should play once you're far enough down the streets while heading toward the pub. YouTuber newtrion put together a quick video showcasing how to unlock Carrie Fisher's voice in the original Dishonored and you get to hear her briefly at the 6:24 mark.
The video has been receiving a lot more attention lately following on the untimely passing of actress, producer, and writer, Carrie Fisher. The Star Wars star recently died at the age of 60 this past week, and fans from sci-fi, literature and gaming have been coming together to celebrate the life and times of Fisher.
During those moments we've seen gamers getting together to hold ceremonies in games like Star Wars: The Old Republic and some of her coworkers and cohorts from various projects have been paying tribute to the late star with praise and fond memories. Among them was Arkane Studios' Harvey Smith, who shed some light on Fisher's work in the original Dishonored. It's just one extra piece of memorabilia to remind fans of her contributions to the world of entertainment.
Staff Writer at CinemaBlend.
Your Daily Blend of Entertainment News
Thank you for signing up to CinemaBlend. You will receive a verification email shortly.
There was a problem. Please refresh the page and try again.