Xbox One Just Added Three Major Titles To Backward Compatibility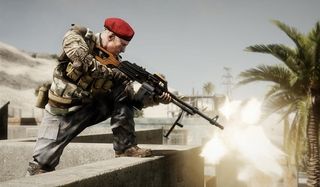 You can just about set your watch by the new games being regularly added to Xbox One's backward compatibility these days. A trio of new titles just went live, including a couple of first-person shooters and an epic fantasy RPG.
Larry Hryb just updated the Major Nelson Twitter page with the latest three games to be made playable via backward compatibility on the Xbox One games console. They're three biggies, too.
That's right, your old copies of Battlefield 3, Battlefield: Bad Company 2 and Dragon Age Origins can now be played simply by inserting the 360 disc into your Xbox One. The list of compatible games is basically growing on a weekly basis at this point, with hundreds of last gen titles now playable on Microsoft's latest piece of hardware. With plenty of titles from the Halo, Call of Duty and Gears of War series already playable, not to mention games like the original Mass Effect and Red Dead Redemption, today's latest offerings will help round out that collection nicely.
Again, if you own an Xbox One, you don't need to do anything special to get these games to work on your console. The backward compatibility feature has already been updated so, if you've got an itch to revisit old favorites, you can just pop them in and get to playing.
While Battlefield 3 is great and all, it was yet another modern shooter that took itself very seriously. That's why Bad Company 2 is the clear standout of this batch. It's got all of the great shooting of a traditional Battlefield game, but with the added bonus of big, open environments and a cast of characters that are far more entertaining than your average group of military grunts. We're pretty sure that the next Battlefield game will revisit World War II and, after Battlefield 1, we wouldn't complain about a continuation of the series' new direction, but we'd also trade just about any new shooter currently on the horizon for a Bad Company 3.
After you're done with all of that shooting, you can spend plenty of time questing around the realms of Dragon Age: Origins, saving villages, fighting dragons and casting spells like a wizard on speed. A bright, colorful and fast-paced Western RPG, DAO reminds us that roleplaying games can be just as frantic and exciting as any action game.
So there you have it; three big new games from the Xbox 360 era now available on the Xbox One. At this point, we're running out of ideas as to what Microsoft should try and add next. If you've got any ideas, drop them into the comments below.
Your Daily Blend of Entertainment News
Staff Writer for CinemaBlend.
Your Daily Blend of Entertainment News
Thank you for signing up to CinemaBlend. You will receive a verification email shortly.
There was a problem. Please refresh the page and try again.