Microsoft And Epic Are Being Sued Over Gears Of War, Get The Details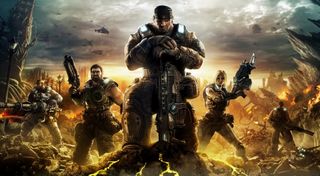 Former professional wrestler and football player Lenwood Hamilton has a big issue with Microsoft and Epic Games over Gears of War. The third-person shooter has come under fire for a lot of things, but you'll want to get the details on why Hamilton is suing the video game makers.
According to TMZ, Hamilton is suing Microsoft and Epic Games because he feels as if Gears of War has ripped off his likeness with the character Cole Train. He claims that the character is an amalgamation of his pro-wrestling persona mixed with his football career, and was made aware of the character after his son played the game and showed it to him. He cites Cole Train's front gold tooth, wristbands, and jersey number as proof enough that Cole Train was based on him. Cole's jersey number is 83, and Hamilton played for the Philadelphia Eagles in 1983.
In the court documents obtained by GamesIndustry.biz, Hamilton claims that the similarities don't end there. He also infers that Cole Train's voice was also based on him and had forensics analysis conducted on audio samples of Cole Train saying certain lines and compared it to him repeating those lines. The forensics examiner claimed that the report shows a "reasonable degree of scientific certainty" that Cole Train and Hamilton's voice are the same.
However... Cole Train wasn't voiced by Lenwood Hamilton; he was voiced by Lester Speight. Interestingly, Speight used to work with Hamilton back when he was also a pro-wrestler at Hamilton's Soul City Wrestling promotion. This led Hamilton to also add Speight to the suit, suing him as well for stealing the idea of Cole Train from him while they were working together at the wrestling promotion. According to Hamilton, Lester Speight discussed plans to make a video game with him but Hamilton turned it down because he didn't like that it would feature violence -- this was back in the late 1990s, about eight years before Gears of War launched.
The suit is a little unhinged, insofar that it wouldn't make sense for Epic Games to steal someone's voice by using a completely separate voice actor. Also, the concept of Lester Speight coming up with an idea for a game character and discussing it with Lenwood Hamilton eight years before the release of Gears of War is completely out of the blue. How Speight allegedly got in contact with Epic or Microsoft to create this character is far from clear.
So far Microsoft, Epic Games, and Lester Speight have yet to respond to the lawsuit by Lenwood Hamilton. It's going to be hard for Hamilton to make his case when the entirety of Delta Squad from the original Gears of War trilogy was basically a generic group of stereotypical soldier types fighting against unfathomable monstrosities. In that case, there're about a thousand other people who could sue for Dominic Santiago being a rip-off of their likeness, and the same could be said for Baird and Anya as well.
Your Daily Blend of Entertainment News
Staff Writer at CinemaBlend.
Your Daily Blend of Entertainment News
Thank you for signing up to CinemaBlend. You will receive a verification email shortly.
There was a problem. Please refresh the page and try again.