New Mass Effect: Andromeda Trailer Introduces The Game's Villain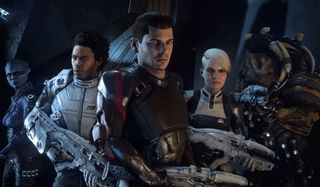 As we creep closer and closer to the arrival of Mass Effect: Andromeda, the folks at BioWare have started releasing additional details concerning the game's plot and characters. And in the most recent trailer, we finally get a good look at the upcoming sci-fi action game's big bad.
BioWare recently unleashed "Official Cinematic Trailer #2" for Mass Effect: Andromeda and what the trailer lacks in name creativity it makes up for in sweet new details for the highly anticipate game. Get ready to meet your future nemesis.
It sounds like the uber baddie is in no mood to negotiate, as he tells the Ark Hyperion crew that they need to surrender or burn. Not very hospitable, if you ask us. Sadly, his brief threat is the only information we have to go on concerning his motivations at this point, so you'll just have to settle for a whole bunch of rad action sequences to close out the remainder of the trailer.
We get some brief looks at cinematic events in the game, including some shootouts, negotiations with various alien races, and what is almost certainly the beginning of one of Mass Effect's infamous love scenes. There's also a joke ripped straight out of the first Avengers movie, which didn't get so much of a laugh from us as a "sad trombone."
BioWare doesn't bother giving out too many additional details in the description for this latest Andromeda trailer. They've decided to let the footage speak for itself, and the message is coming in loud and clear: This game is going to be epic. Not a huge surprise if you've ever played a Mass Effect game but, still, it's nice to see them going big.
As for those brief extra details, the developer simply states that players will "unravel the secrets of a vast galaxy" while waging war against alien threats and building a crew of like-minded adventurers. The stakes certainly seem high, though, as we're reminded that "humanity's future" rests on the shoulders of the player and their rag-tag group of heroes.
Andromeda takes place 600 years following the original Mass Effect arc, but we thankfully won't have to wait that long to actually play the game. Actually, the wait is pretty-dang-short at this point, arriving on the PlayStation 4, Xbox One and PC on March 21.
As always, we're interested in hearing what our readers think so far. Has the Andromeda trailer gotten you pumped for the game to launch or are you feeling lukewarm on this one? Is there anything, in particular, to blame for those feelings, whichever direction they go? Let us know in the comments below.
Staff Writer for CinemaBlend.
Your Daily Blend of Entertainment News
Thank you for signing up to CinemaBlend. You will receive a verification email shortly.
There was a problem. Please refresh the page and try again.