The Psychonauts VR Game Has A Release Date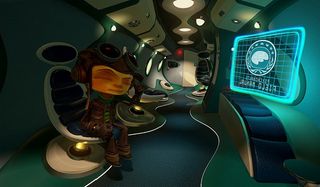 The Psychonauts series is all about diving into people's heads, so it makes sense that the next game in the series would instead let your head dive into the game...Sort of. What we mean is that it's a VR experience called Psychonauts in the Rhombus of Ruin, and we finally know when you'll be able to actually play it.
Psychonauts and the Rhombus of Ruin is set to launch exclusively for PlayStation VR on Feb. 21, bridging the gap between the original Psychonauts and the forthcoming Psychonauts 2.
The team at Double Fine Productions made the launch date official via press release yesterday, along with a rather entertaining post on the PlayStation Blog. It looks like this PSVR outing will be a "mind-bending adventure puzzle game," with Tim Schafer himself handling the writing and directing. As mentioned above, Rhombus of Ruin will fill in the story gaps between Psychonauts and the highly-anticipated Psychonauts 2, so completionists are going to need to make a trip into the realm of virtual reality if they want to find out what Razputin and his pals have been up to.
According to the announcement, players will once again take on the role of Raz, playing the game from the first-person perspective. You'll have all of Raz's psychic powers, too, which will help you change your surroundings and solve the game's puzzles. One example listed is Clairvoyance, which will allow you to see through the eyes of other characters in the game. Telekinesis, on the other hand, will allow you to move things around in the game world, whereas Pyrokinesis will allow you to set stuff on fire.
Here's a look at a section of gameplay. Don't forget to click and drag to look around the scene.
The original Psychonauts ended on a cliffhanger 10 years ago so, yeah, players have been waiting a while to see how the story shakes out. Raz and his team begin the VR game right where the original PS2 game ended, on their way to save the leader of the Psychonauts organization. Unfortunately, their journey goes into the Rhombus of Ruin, where they are kidnapped by a mysterious foe. Raz finds himself immobilized and forced to rely completely on his psychic powers in order to save his friends, discover the true identity of their kidnapper and get the heck out of dodge.
According to the announcement from Double Fine, this latest chapter in the Psychonauts series has been written with both long-time fans and newcomers in mind, so you don't have to worry about playing the first game before diving into this VR experience. As for Psychonauts 2, well, we're still waiting to hear when the next big adventure will finally be ready for exploration.
Staff Writer for CinemaBlend.