Here's When Final Fantasy XV Will Fix Chapter 13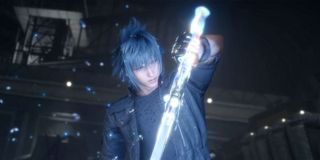 Square Enix has announced the schedule for a whole bunch of tweaks and additions coming to Final Fantasy XV, including support for PlayStation 4 Pro and the highly anticipated update to the game's one major down point, Chapter 13.
From critics to average players, it seems like nobody is super happy with Final Fantasy XV's Chapter 13. Don't worry, we won't go into spoilers here. But apparently, there was enough of an uproar to cause Square Enix to pull a BioWare, with the developer set to alter a section of their game the same way Mass Effect 3 was "adjusted." For folks who have been waiting for Square Enix to make these changes before continuing on in the story, you've got to wait nearly two more months before work wraps up. According to an announcement from Gematsu, the Chapter 13 fix isn't coming until March 28.
To put it in Sqenix terms, March 28 is the date you will see "enhancements to the final stages of the game, including Chapter 13." They also point out that you will be able to play as one of the other main characters, Gladiolus, for a short period of time thanks to these tweaks. Consider us intrigued.
But don't worry, because there's a bunch of other stuff being fixed or added to the game between now and March 28, so you can stay plenty busy while waiting for FFXV's conclusion to be made un-not-good.
On Feb. 21, the PS4 Pro support will be patched into the game, allowing FFXV to run at 60 fps. That's not to say that the game will be locked at 60 frames, just that it will be able to hit that number when you don't have eight characters moving and countless effects going off at the same time.
That's also the date that Hunts will be dropped into the game world, giving players a limited time to achieve certain goals. Apparently, fishing challenges will be added at a later date.
The game's level cap will be raised to 120 on Feb. 21, too, along with an increase in photos you can take from 150 to 200 and the ability to turn on the music player while riding around on a Chocobo.
Additional DLC will also be available in FFXV on Feb. 21, including a Boos Sword, the Dragon Mod rod and an Aviol reel.
If you want to learn more about Gladiolus, his story episode will be available come March 28 as well alongside the Chapter 13 update, with Prompto's tale expected to arrive in June. Finally, the team is working on the ability to let players freely drive the Regalia car wherever they choose, which we're sure will result in all sorts of fun videos getting posted online.
Your Daily Blend of Entertainment News
Staff Writer for CinemaBlend.