Biohock Developer's New horror Game Is Heading To The Xbox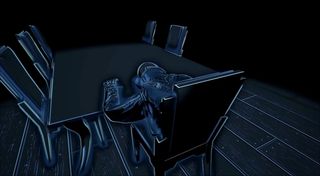 (Image credit: Deep End Games)
BioShock alumni who put together the development studio Deep End Games have been hard at work on their next big project called Perception. The title has been in development for a while, and they previously announced that it was coming to the PS4 and PC, and now Xbox One owners will be able to get in on the action.
Gamespot pointed to blog post on the Xbox News Wire where Deep End Games announced that Perception would be heading to the Xbox One, alongside the PS4 and PC.
Deep End Games consists of developers who helped produce the original BioShock, the very controversial BioShock: Infinite and the iconic Dead Space. The new game Perception focuses on a blind investigator named Cassie Thornton. This might sound like a recipe for disaster, but Cassie being blind opened up a whole new way to play and experience the game.
Instead of moving through the environment like a typical first-person horror game, players will use echolocation to navigate the environments. Perception takes place in an old creepy mansion as Cassie attempts to investigate the horrors that have been taking place throughout the years at the house on the haunted hill. As she moves through the house and encounters ghastly secrets, players will have to face off against ghosts by avoiding them, hiding from them or silently stealthing past them, and this is where the echolocation comes into play.
Much like how Matt Murdock in Ben Affleck's rendition of Daredevil saw the world of Hell's Kitchen, Cassie will see the mansion in the same way. Sound reverberates off the environment allowing her to move through hallways, dining rooms and bedrooms while avoiding the things that go bump in the dark.
Sound plays a key role in both the noise that Cassie makes and the noises that the ghost make. The vibration from the noises will also alert Cassie, creating a visual topography of her surroundings. It's a very cleverly designed tool that could really help shape the way players experience the horror title.
We've only seen brief snippets of gameplay of Perception since its Kickstarter, but what they've showcased so far appears to be a mix of survival-horror and puzzle solving.
If you're expecting plasmids, shotguns and art deco revolvers, you're definitely looking in the wrong place. However, if you're more-so interested in a game with a deep seated mystery at its core and some thrilling horror elements to uncover, I think Perception might be up your alley.
This seems like it could also be a really scary game to play via VR. Right now the Xbox platform doesn't support VR, but that could change in the near future with the Xbox Scorpio. Rumors hint that it could get Oculus Rift support, and based on the core specs the Xbox Scorpio could actually run it.
Sadly Deep End Games doesn't mention if they will offer VR support on PlayStation 4 through PSVR or on PC through HTC Vive and Oculus Rift, but maybe VR support will arrive post-launch? Speaking of launches... there's no release date set for Perception but I'm sure they'll roll one out soon.
Staff Writer at CinemaBlend.
Your Daily Blend of Entertainment News
Thank you for signing up to CinemaBlend. You will receive a verification email shortly.
There was a problem. Please refresh the page and try again.