Xbox Unveils New Tech Series Controllers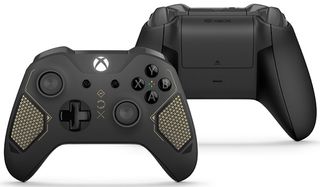 Are you in the market for a fancy new Xbox One controller? Then maybe Microsoft can interest you in its new line of "Tech Series" controller, boasting a spiffy visual upgrade and some additional bells and whistles for a premium price.
We can no longer complain that the Switch Pro controllers are a bit on the expensive side, as Microsoft's new controllers clock in at an identical $69.99. The first of this new series of controllers is called the Recon Tech Special Edition, and it'll be available worldwide starting April 25.
According to Xbox Wire, this new controller is just one prong of the Xbox attack this year geared at "giving fans choices when it comes to games, services, and devices." They reference the Project Scorpio console set to launch next holiday season, as well as the Game Pass program that will let folks subscribe to a collection of titles for the Xbox 360 and Xbox One. We'd argue that more AAA exclusives would really help round out that offensive but, hey, controllers are neat, too.
According to the announcement, the design of this new controller series was inspired by military technology and performance patterns, with design concepts pulled from combat armor and "sci-fi mechanical gear." We're still talking about controllers for video games, right?
If you're wondering where that premium price point comes from, one of the controllers many features includes a laser-etched texture that's supposed to make it feel even more comfortable in your hands. There's also a rubberized grip to help get you through those marathon sessions of Scalebound. We mean Fable Legends. We mean the new Crackdown, hopefully.
As with standard Xbox One controllers, you can also use these bad boys for gaming on Windows 10 or the Samsung Gear VR. And with the help of the Xbox Accessories App, you can actually map all of the buttons to your liking. That feature alone sounds like it might be worth those extra 10 bucks.
The coolest feature, though, has got to be the Copilot mode. This mode allows you to map certain buttons to different controllers, letting two players take control of the game at once. Whether you're a parent helping a budding gamer along or someone who needs to be able to control your game with a hand and a chin or foot, for instance, the Copilot mode will have you covered. Earlier ribbing about exclusives aside, we can't applaud Microsoft enough for coming up with a creative way to make sure more folks than ever are able to enjoy their games. We don't all play the same way, and something like Copilot seems like a huge step in the right direction toward addressing those needs.
Your Daily Blend of Entertainment News
Staff Writer for CinemaBlend.