Is Call Of Duty: Modern Warfare Remastered Finally Launching By Itself?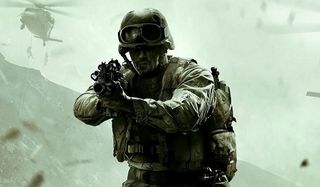 Originally only released as a free bonus with last year's Call of Duty: Infinite Warfare, it looks like Call of Duty: Modern Warfare Remastered could be seeing a standalone launch. Our latest evidence to this possibility comes from Japan.
Over on Amazon Japan, they had a pair of listings for Call of Duty: Modern Warfare Remastered go live, which had many folks scratching their head. As noted above, MWR launched as part of the Infinite Warfare package, basically a free gift for folks who purchased the latest game in the series. Many speculated from day one that MWR would eventually be made available as a standalone title, but there was no proof to back up those claims outside of blind hope. Activision specifically said it wouldn't happen.
A couple of listing have popped up in the past few months, but none through a source like Amazon. If I'm being honest, I can't think of the last time an Amazon-based "rumor" didn't turn out to be true, as it's usually a case of a product simply going live before it was supposed to.
Quite a few other factors give this latest retailer snafu extra weight, though. For starters, and as pointed out by Charlie Intel, they have the PlayStation 4 launch scheduled for June 20 with the Xbox One launch scheduled for July 20. That would definitely keep in line with the game's usual policy of bringing out everything on PlayStation a month before other platforms.
Secondly, the timing is basically perfect. We don't doubt that quite a few people reluctantly picked up Infinite Warfare simply because they wanted access to Modern Warfare Remastered; remember that a lot of gamers weren't happy with the series' trek into the future but still wanted to replay a classic entry in the series. Since there was no other way to get it, you had to buy Infinite Warfare to play MWR. (As a side note, we thought both games were pretty great, but fans had made up their mind on Infinite Warfare from literally the reveal trailer.)
At this point, we doubt anyone is still making many sales on Infinite Warfare strictly for Modern Warfare Remastered. Also, the next Call of Duty, WWII, is set to launch this fall. Rather than have a standalone version of MWR try to compete with a new main entry fans are actually excited for later this year, it makes a lot of sense to release MWR now and then have everyone fresh and ready to go with WWII in another five months. From a business standpoint, this whole plan makes a heck of a lot of sense, even if it is almost guaranteed to create a whole new batch of controversy.
But, again, despite the source of this potential leak, we should still be treating this as a rumor for the time being. Nothing official has been announced, but we'll be sure to let you know as soon as something is.
Staff Writer for CinemaBlend.