The Resident Evil 2 Remake Is Making One Major Change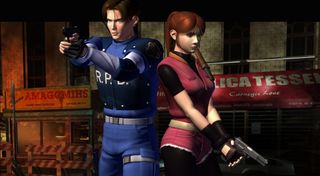 (Image credit: Capcom)
After years of begging Capcom for a remake of Resident Evil 2, the company finally obliged. However, there is going to be one major change to the game that fans of the original are most certainly not going to like at all: the original voice actors won't be returning for the remake.
PCGamesN is reporting that both Matthew Mercer and Alyson Court will not be returning to reprise their roles as Leon Kennedy and Claire Redfield in the remake of Resident Evil 2. The two have confirmed via social media that Capcom has opted to go with non-union workers to fill in the roles of Leon S. Kennedy and Claire Redfield.
The PCGamesN article explains that Alyson Court was originally contacted when Capcom first had plans on remaking the Resident Evil sequel from back in the late 1990s. Court was set to do both motion capture and voice capture work (oftentimes referred to these days as performance capture since it encompasses actual acting and voice acting all captured in one session).
However, after the SAG-AFTRA strike kicked into gear in late 2016, Court received word from her agent that Capcom no longer required her services. Court, a Canadian actress, is signed with the Canadian ACTRA union, and many of their members are on strike in solidarity with the American actors and actresses signed with SAG-AFTRA.
Matthew Mercer also confirmed that he wasn't asked to come back either, mentioning on Twitter that it's likely because of the same reasons Capcom cut ties with Court, opting to go with a non-union worker.
SAG-AFTRA have been on strike against the major gaming companies since October, holding out in hopes of getting higher pay and residuals on the backend of game sales. According to Sam Singer, who is heading up the firm Interactive Video Game Companies representing the software publishers, there have been no signatures on the dotted line for SAG-AFTRA's proposed contract. Hence, the two groups are in a stalemate.
What this means is that some publishers are going outside of the union worker's pool and hiring in non-union actors and actresses, which is what Capcom is doing for the remake of Resident Evil 2.
The project was originally announced nearly two years ago after multiple fan projects surfaced that garnered lots of attention. Various students and independent developers working with the Unreal Engine 4 built prototypes for Resident Evil 2 using the latest generation of today's software design technology, and the projects quickly went viral, which indicated to Capcom that there was a pretty big market for a remake of the game.
Unfortunately for fans of the original, Alyson Court and Matt Mercer won't be reprising their roles as Claire Redfield and Leon Kennedy. Both performance artists have voiced Claire and Leon on multiple occasions across various Resident Evil projects, so as you can imagine fans are none too pleased at the turn of events.
So far there is no release date for Resident Evil 2: Remake, and Capcom has been working hard to keep the game under wraps.
Staff Writer at CinemaBlend.
Your Daily Blend of Entertainment News
Thank you for signing up to CinemaBlend. You will receive a verification email shortly.
There was a problem. Please refresh the page and try again.