PlayStation Plus Free Games in July Are Really Impressive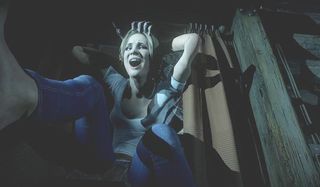 The July lineup of PlayStation Plus games is killer, by which we mean you'll be running for your life, trying to survive a terrifying night in the woods. If that's a bit too spooky for you, then maybe you'd prefer surviving the apocalypse as a Pomeranian, kicking Dracula in the face or bending the elements to your will.
July gets underway this weekend, which means it's time to sweep out the old PlayStation Plus games and stock the shelves with the latest and greatest offerings. That includes a pair of titles on all Sony console, including the PlayStation 4, PlayStation 3 and PlayStation Vita.
First up, on the PlayStation 4, get ready to scream your head off with Until Dawn. This survival horror game began life as a PlayStation Move title for the PS3, disappeared and resurfaced as a PS4 game you can play with a standard controller. It's probably fair to say that nobody was expecting too much out of this particular game given its kinda bizarre development and the fact that it basically came out of nowhere. Until Dawn fooled everyone, though, proving to be an absolutely fantastic entry in the horror genre that's well worth checking out. That goes double now that it's set to launch on Plus.
If you'd rather play a game...of Thrones, then you'll be happy to learn that the second PS4 Plus game for July is Game of Thrones. In case there's any confusion, this is the Telltale take on the world of George R.R. Martin, including the entire episodic tale of House Forrester and their involvement in the legendary fantasy series.
Moving over to the PlayStation 3 and you can enjoy both Tokyo Jungle and Darkstalkers Resurrection. The former is a bizarre, yet super engaging survival game that has you taking on the role of various animals trying to survive in a world where humankind no longer exists. The latter is the latest entry in the popular fighting franchise boasting fun takes on classic monsters.
Over to the Vita and your first July Plus game is called Element4l. It's a pretty unique puzzle platformer wherein you take on the role of a being that can switch between the four elements. It's a relaxing experience and a nice challenge, so definitely worth checking out. Finally, there's Don't Die, Mr. Robot, which is also playable on PS4 thanks to Cross Buy. This one is kind of a bullet hell game where you don't actually shoot back. Instead, you'll guide the titular Mr. Robot through a collection of varied challenges, avoiding hazards along the way.
But wait, there's more!
Plus subscribers will also be getting a couple of extra goodies this month. For starters, there's access to That's You, the first mobile title that's part of the PlayLink launch. Once the PlayLink app goes live on July 4, you'll be able to download this quirky social game at no charge.
Finally, there's Orcs Must Die Unchained. Plus subscribers will gain instant access to the closed beta on July 18, along with an in-game starter pack that includes $20 worth of goodies. But while the beta goes live July 18, the Plus pack will only be available July 4-15, so act quickly on that one.
Staff Writer for CinemaBlend.
Your Daily Blend of Entertainment News
Thank you for signing up to CinemaBlend. You will receive a verification email shortly.
There was a problem. Please refresh the page and try again.