How To Get A Sparrow In Destiny 2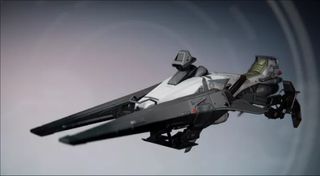 In the original Destiny it didn't take but a hop, skip and a jump to get your hands on a Sparrow. You could do it by completing just a few missions and it was treated as nothing special at all. Sparrow's weren't even that necessary in the first game, but they're definitely needed in the sequel, and there are a few ways on how you can get your hands on a Sparrow in Destiny 2.
Polygon is reporting that the first method is to complete the game and you'll eventually earn a Sparrow for your troubles. If spending anywhere between nine and 12 hours of game time is a bit too much of an investment in order to get your hands on a Sparrow, another method is to play through the campaign mode until you unlock Amanda Holliday, a vehicle vendor from the original Destiny.
Once you unlock Holliday you can visit her and purchase a Sparrow for yourself. It requires a bit of coin if you're willing to go through the process of spending some of your hard earned currency to purchase the Sparrow of your choice.
There is a third alternative to getting your hands on a Sparrow in Destiny 2 and it requires acquiring a Bright Engram, one of the new high-end loot drops that are available in the game. It's not easy acquiring a Sparrow this way, but it is possible.
Polygon's earlier part of the article talks about the trouble of traversing the world of the sequel given how much larger it is getting from one destination to the other, and how you aren't conveniently handed a mode of transportation out of the gate in Destiny 2.
Bungie noted to the outlet that it was intentional to restrict mobility to a form of discovery rather than just handing players the opportunity to trek the digital globe with ease. The idea was to have players move around the areas, looking for things to explore and interact with. Heck, it's actually possible to even commandeer a Sparrow for yourself by ambushing enemy AI Sparrow patrols, which simply requires a few well placed shots to knock them off the hoverbike and take it over for yourself. This can be accomplished directly after completing the tutorial phase and unlocking the EDZ after making your way through the early goings of the Farm.
Of course, not everyone likes discovery or exploration. Bungie did attempt to accommodate these kind of gamers by removing the need to walk (or drive) everywhere by using fast travel in Destiny 2, a method that's been implemented more and more in open-world games, such as Assassin's Creed, GTA and Watch Dogs. Fast travel essentially eliminates the need to use vehicles. However, Polygon did opine about the difficulty of traversing to Fireteam locations when some of the other members of the team all had Sparrows, making fast travel untenable when it came time to explore other areas of the map where the fast travel teleportation hot spots weren't located, such as public boss fights or random event encounters.
There seems to be a fine balance between making gameplay and exploration convenient and making players feel as if they have to play to discover. The Legend of Zelda: Breath of the Wild is one of those kinds of games as well, especially considering that you don't get a tutorial on how to utilize transportation until several hours in, but that doesn't mean you can't venture off the beaten path and commandeer a mode of transport for yourself.
Your Daily Blend of Entertainment News
Staff Writer at CinemaBlend.