What's New For Xbox Games With Gold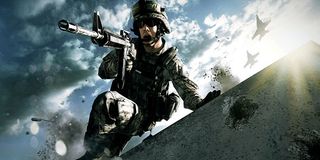 We've reached mid-September, which means it's time for the Xbox Live Games with Gold game library to undergo its regular rotation. Get ready to add three more games to your digital collection for Xbox One, including Battlefield 3, Oxenfree and Forza Motorsport 5: Game of the Year Edition.
Unlike PlayStation Plus, which launches all of its promotional games at the start of the month, Games with Gold has a staggered launch, making a couple of games available at the start and a couple of games available midway through. We reported on this month's Games with Gold when they were originally announced, so consider this a nice reminder to jump on and grab the latest batch of titles now that they've become available.
While the Games with Gold program typically only features four games a month (two on each Xbox console), Microsoft was feeling extra giving this month, making Forza 5 available throughout the entirety of September. If you still haven't downloaded that game to your Xbox One, be sure to do it before October rolls around.
As for the standard Xbox One game for the back half of September, you can now add Oxenfree to your digital collection for no extra charge on top of your Gold membership. Again, these launches are staggered, so Oxenfree will be available through Oct. 15. Available right now, it replaces Trials Fusion on the Xbox One roster for Gold.
Another racing game, Hydro Thunder Hurricane, is also officially gone from the Gold roster on the Xbox 360. It's being replaced by Battlefield 3, though, so grab it while it's hot. Again, the timing for these games is a little odd, so you can only grab this DICE shooter through Sept. 30. That gives you two weeks to boot up your console and press a couple of buttons, but best to do it now rather than regret forgetting to do it later. As a reminder, all Xbox 360 games made available through Gold are part of the Xbox's backwards compatibility lineup, so you can download this title on either the Xbox 360 or Xbox One.
So that's not a bad way to spend the end of the month. When you aren't too busy joining massive online battles, you can dive into a unique side-scrolling mystery or even hit the track in your favorite, ridiculously expensive car.
We expect to hear about what's coming to Gold in October within the next couple of weeks, but those fresh games should help tide you over until then. We've got our fingers crossed for something Halloween-appropriate, but we're open to hearing your wish list in the comments below.
Staff Writer for CinemaBlend.
Your Daily Blend of Entertainment News
Thank you for signing up to CinemaBlend. You will receive a verification email shortly.
There was a problem. Please refresh the page and try again.