Minecraft's Better Together Update Adds More Cross-Play Functionality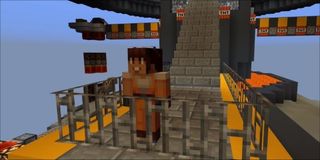 (Image credit: Mojang)
Mojang is now rolling out the new cross-platform compatibility, enabling gamers across different platforms to play the game together. The first iteration of the Better Together update is currently available for Xbox, mobile, and Windows 10 gamers. There are still quite a few kinks that Mojang has to work out, but you can most certainly play together across multiple devices.
Over on the official Minecraft website, the developers rolled out the changelog and the roadmap for what's on the docket for the Better Together update. For now, it's possible for Windows 10 gamers who own a copy of Minecraft, Xbox One gamers, iOS and Android users to play together across the various platforms. Sadly the Nintendo Switch version of cross-platform compatibility is not up and running just yet.
What is up and running is the ability to use the new marketplace to download and experience creations made across other devices for your copy of Minecraft. Additionally, Play Anywhere support is enabled, so you can log into the game on your Xbox One, build up an amazing world, shut down the game on the Xbox One and log into your account on your mobile phone to pick up building that amazing where you left off. This sort of feature means that you can take Minecraft anywhere with you no matter where you go or what platform you play on.
Speaking of creations, Mojang have implemented new platforms for armor stands, parrots, fireworks, stained glass, and all new recipes for players to learn and master.
The Switch version will require a bit more time than the other versions. The developers don't exactly say what the hold up is or why it will take longer, but it's noted on the blog page that it takes a lot of work to make it happen. Hilariously enough, there's a depiction of how Mojang made cross-platform play possible using actual Minecraft machinima to showcase the launch of the Better Together update. You can check out the launch trailer below, which is quite hilarious.
As you can see, the team ended up blowing up the restrictions that held each console and mobile platform on its own separate hoist, and then used the retractable arms to bring all the consoles together.
You might notice that none of Sony's PlayStation branded platforms are there, and it's because Sony opted out of any form of cross-platform play between Nintendo's Switch and Microsoft's Xbox consoles.
While it's unlikely that the PS4 will ever join the fray at this point, it will be pretty cool seeing Nintendo Switch and iOS users playing together, as well as Xbox One and Android users and every other mixture of the four in between.
The Better Together update is available right now. Those who own Minecraft on disc for the Xbox One will have to wait a bit longer for the update to arrive, and Switch owners will also be on a delay but the update will arrive soon enough.
Your Daily Blend of Entertainment News
Staff Writer at CinemaBlend.