One Gran Turismo Sport Collector's Edition Included A Real Car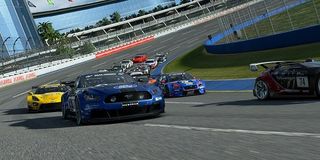 These special editions of games are getting more and more extravagant. Gran Turismo Sport, for example, had a limited edition available that included a real car...And then somebody bought it.
You don't get much more "limited" than the Limited Edition of Gran Turismo Sport. Only one version of this edition was made available, as it included an actual car. All told, this package sold for about $46,300, according to Polygon.
The Limited Edition of Gran Turismo Sport included a copy of the game, a PlayStation 4 Pro, a PlayStation VR, a year's subscription to PlayStation Plus, as well as a Sony Bravia 4K HDR TV. Also included in the bundle was a Thrustmaster T-GT driving wheel and the Apiga AP1 racing chair. In other words, this bundle included everything you could possibly need to make yourself feel like you were driving an actual car while playing the latest Gran Turismo game. And if you wanted to take that experience to the next level, it also included a 2018 Mazda MX-5 with some special PlayStation 4 branding. Honestly, if you've got a car like that, we're not sure why you'd want a video game to simulate an experience you can actually have but, hey, we're not going to try to tell rich people how to spend their money.
As explained by the original story, this was all set up by Taiwan Sony Interactive Entertainment and, not long after it was announced, a car collector actually forked over the nearly $50K to claim it. What's extra crazy is the fact that, once you crunch all of the numbers, this bundle actually costs about $10,000 more than it would have cost to buy everything separately. But we doubt anyone dropping that much change on an extravagant video game/car Special Edition is going to worry about something as silly as a few silly thousand dollars.
This is easily one of the most expensive game bundles to ever hit the market. Most exclusive bundles go for a few hundred dollars and include a statue of Batman or something like that. Black Ops 3 went a bit overboard with a mini-fridge and then there was that island giveaway for Just Cause 3, but that was a drawing instead of a bundle add-on.
We've already had word that Gran Turismo Sport will boast some DLC, but no sort of season pass was included in this insane bundle. We imagine Sony will send the guy some download codes as content becomes available but, otherwise, he might actually have to spend even more money on the game if he wants to expand his virtual car collection.
Your Daily Blend of Entertainment News
Staff Writer for CinemaBlend.
Your Daily Blend of Entertainment News
Thank you for signing up to CinemaBlend. You will receive a verification email shortly.
There was a problem. Please refresh the page and try again.