Destiny 2's First Prestige Raid Has Already Been Beaten, But Not Without Controversy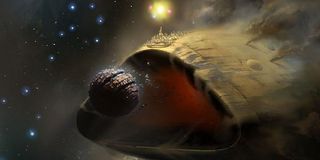 Less than two hours following the launch of Destiny 2's Prestige Raid, Clan Redeem crossed the finish line as the first squad to tackle the challenge. Once footage of their success started circulating, though, it was discovered they had used an in-game exploit the team at Bungie has yet to patch out of the game. Now the question is: Do they deserve the prestige or do they need to, ahem, redeem themselves for kinda-sorta cheating?
According to a report from Polygon, Destiny 2's Prestige Raid has led to an interesting debate over what is and is not considered "fair" in the gaming world. After all, if you're only doing something that a game allows -- even if you're taking advantage of an exploit -- are you technically cheating?
Just an hour and six minutes after the Raid went live, Redeem members Sweatcircle, Modern Tryhard, Ehroaar, I Indica I, Senior Snubby and Gladd managed to muscle their way through to the end. The Prestige Raid is basically identical to the regular in-game raid, only with extra hoops to jump through, less damage output, greater personal damage and things like that. Basically, Bungie takes an already difficult mission and cranks the "Throw Controller" knob up to 11.
The team was streaming their efforts, though, and one member was overheard saying "I'm coil glitching" while playing through the Raid. The coil glitch is a tactic that allows players to instantly replenish their power weapons, basically loading up the best weapon in the game with ammo you didn't get the legitimate way. Before releasing the Prestige Raid, Bungie said the glitch would still be available but that anyone caught using it would be disqualified from claiming any sort of recognition.
However, it could be argued that they left the glitch in the game so, ultimately, you can't fault a player for walking through a door you left wide open. We're not arguing either way, just saying that it's kind of weird for Bungie to scold players for taking advantage of something they should have patched out weeks ago or, at the very least, before launching the Prestige Raid.
To that end, Bungie has left the fate of Redeem up to the community. In the Destiny subreddit, community manager Cozmo23 has stated that there are a few issues preventing them from taking action on their own.
For starters, apparently the coil glitch isn't the one they actually warned players against and they have no way on their end to find out if players were actually using it. Apparently, the players' livestream isn't evidence enough. So as a weird sort of copout, they are going to soon release the names of the top three teams to complete the raid, and players can "make your own decision as to who should be celebrated."
That's kind of weird, but we're talking about bragging rights in a video game here. In short, we're not sure it's all that important who "really" finished first.
Your Daily Blend of Entertainment News
Staff Writer for CinemaBlend.
Your Daily Blend of Entertainment News
Thank you for signing up to CinemaBlend. You will receive a verification email shortly.
There was a problem. Please refresh the page and try again.